ATEX Directive (2014/34/EU) - Certification Guide
23/6/2019 Ferry Vermeulen Law & Legislation
1. What is the ATEX Directive 2014/34/EU?
The ATEX directive 2014/34/EU is a European Directive and falls withing the scope of CE Marking. It applies to mechanical and electrical equipment to be used in potentially explosive atmospheres. This guide describes how to comply with the Directive.
Electrical and mechanical equipment which are designed to be installed and/or used in an explosive atmosphere may result in accidental explosions.
An explosive atmosphere is one with inflammable gases, vapours, mists and/or dust suspended in air. Electrical and mechanical equipment may ignite such an atmosphere, if appropriate measures are not taken.
This directive covers any equipment and/or protective system which is intended to be used in potentially explosive atmospheres, as well as any safety, controlling or regulating device designed to promote safe functioning of the equipment or protective system.
2. Directive Name
ATEX directive -equipment and protective systems intended for use in potentially explosive atmospheres.
3. Directive Number & Download Link to Legal Directive
Directive 2014/34/EU can be downloaded from the following link:
4. Notified Body (aka, Independent Assessment) Required?
Before a manufacturer can begin the required procedure to assess their product, it is important that they determine whether said product requires self-assessment or if a Notified Body needs to be involved.
A notified body is an organisation which is responsible for carrying out required conformity tests to assess the products before they are released to the EU market. These bodies are designated by individual European Union member states.
Manufacturers cannot self-certify the safety of any protective equipment or system. They are required to hire a test lab affiliated with an official notified body to perform the tests, and send the reports to the notified body personnel. Upon approval, the notifying authority will issue a certificate to prove the product's compliance with the ATEX directive.
5. Products Covered
This directive covers:
Any electrical or mechanical equipment which is capable of igniting a potentially explosive atmosphere.
Any independent protective system which may be fitted to the equipment to prevent explosions, such as explosion vents
Safety devices, controlling devices and regulating devices which promote safe functioning of any equipment and/or protective system.
Components which work only as a part of the equipment or protective system, but have no autonomous function.
6. Examples of Products Covered
Some examples of the equipment and protective systems which fall under the scope of the ATEX directive are as follows:
Inerting systems
Paint spray booths
Gas turbines
Steam turbines
Petrol pumps
Cables
Rotating mechanical seals
Bucket elevators
Fork lift trucks
Transportable, pressurised cabins
Automatically lubricating systems
Electrical trace heating systems
Wi-Fi access points
Refrigerators and storage cabinets for volatile substances
7. Examples of Products NOT Covered
Products which are not covered by the ATEX directive are as follows:
Medical devices
Equipment used for transport
Equipment to be used in domestic or non-commercial setting
Personal protective equipment
Seagoing vessels and mobile offshore units, including equipment which are on board such vessels or units
Equipment which contain explosive substances or unstable chemical substances
8. Enforcement & Penalties
Each EU member state is required to lay down rules on penalties for not complying with the ATEX Directive. Below you can find the penalties for member states Germany and the UK as an example. For penalties relevant to other specific EU member states, please consult that state's local legislation on product safety.
Germany - violation of the "Produktsicherheitsgesetz

" (product safety legislation) can result in fines of €3,000 - €30,000 (

§ 19

) and imprisonment of up to 1 year (

§ 20)

.

In the UK, directive violations are are covered under Section 33 HSWA offenses

and can result in an unlimited fine and up to two years imprisonment.
9. How to Comply: Requirements & Process
Check Conformity
Manufacturers need to carry out conformity assessment procedures during design as well as production phases of their products. Such an assessment is required to demonstrate that the product complies with the ATEX directive and is, therefore, eligible to be placed on the EU market.
Manufacturers are also required to approach conformity assessment bodies or notified bodies to assess certify the safety of their products.
Perform Laboratory Testing
Manufacturers are required to approach laboratories perform appropriate tests. The reports must then be sent to notified bodies who, in turn, will issue a certificate to demonstrate the product's safety. This certificate is mandatory for the product to be considered safe for the EU market.
Declaration of Conformity (contents)
The basic layout and content of a declaration of conformity are common for all directives, but may differ slightly for each directive.
The following are required by most directives
Manufacturer's name and address
The equipment's description and/or serial number
Reference to relevant harmonized standards
Reference to the specifications, where necessary, by which conformity is declared
Details of the signatory
The two ending digits of the year of CE mark affixation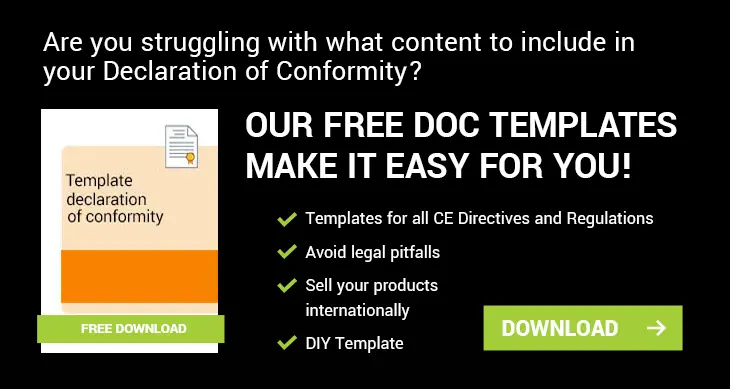 Technical Documentation
Directive 2014/34/EU requires technical documentation to be established by the manufacturer. The technical document is instrumental in the assessment of the conformity of the said appliance with the Directive's requirements.
The technical document must contain the following elements:
Description of the equipment or protective system
Design and manufacturing drawings and layouts
Descriptions to explain the drawings and functioning of the product
Proof that the product complies with harmonised standards, completely or partially
If harmonised standards have not been complied with or have been partially applied, details of the steps taken to conform to the directive's requirements
Calculations and examinations
Test reports
Certificate from the notified body
Affix CE Mark
When all the necessary steps have been taken, it is time to get the product affixed with a CE marking. The marking should be placed either on the equipment, packaging or instructions. The letters must be vertically equal in dimensions and must not be smaller 5 millimeters. If there are other Directives which cover the product as well, the CE marking must be affixed only when all the Directives have been met.
10. Free Template Download
For a free Declaration of Conformity template for the ATEX directive, please refer to the downloads section of the page below:
Declaration of Conformity Templates
11. Related Directives
The ATEX 'Workplace' Directive 1999/92/EC is related to ATEX Directive 2014/34/EU. It emphasises the responsibilities of employers toward the health and safety of their employees who work in a potentially explosive atmosphere.
12. Useful Links (testing Labs, further information)
Links you might find useful in gaining more information regarding the ATEX Directive.
Ferry Vermeulen is a technical communication and compliance expert. He also is a parttime trainer at the Dutch standardisation institute (NEN). Listen to the INSTRKTIV podcast on Spotify or read one of his latest blog articles.

Linkedin I Spotify I YouTube I Facebook I Twitter