Technical Writing Tools: The Ultimate Choice of 83 Experts (2023 UPDATE)
01/06/2021 Ferry Vermeulen Tools and efficiency
Over 80 Techcomm experts reveal their favourite technical writing tools.
Every technical writer knows it: writing user manuals requires many, many skills.
Sadly, not all writers make use of available software tools (maybe there are just too many types of authoring tools to choose from, or often the learning curve can be quite challenging).
However, there are also people that USE awesome technical writing tools to create better content, run a successful business or to support them in a successful career.
I gathered over 80 industry experts and asked them just one question:
If you could use just three technical writing tools in your company, which ones should you use (in the technical writing tools definition, standards and other helpful attributes are included)?
Let me tell you, the insights I received from these more than 70 established techcomm experts were nothing short of amazing. I have listed all of them below. It includes methods, standards, 'standard' authoring software, web authoring tools, multimedia authoring tools et cetera.
I hope this post will be of great value for all new to techcomm or for those wanting to broaden their horizon.
The favourite technical writing tools of industry experts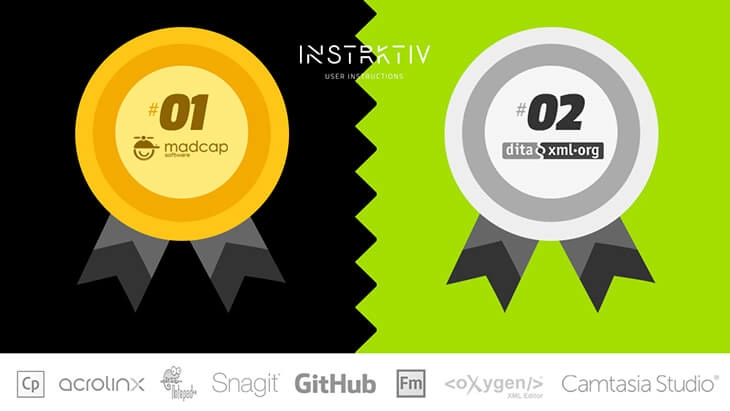 Tom Aldous

---

Tom Aldous, The Content Era's founder, spent the early years of his career as Managing Partner and lead XML / CMS consultant at Integrated Technologies, Inc (InTech). At InTech, Tom deployed many large scale XML DITA conversion projects in multiple industries. After 20 years at InTech, Tom moved on to Adobe Systems and owned the FrameMaker, RoboHelp and Technical Communication Suites revenue number. Tom was Adobe's lead XML / DITA / XSLT / HTML5 / FrameMaker expert. He eventually moved to Acrolinx and served as their Senior Vice President of Global Operations. Acrolinx provides an additional focus on Content Optimization. The Content Era, LLC provides content solutions from XML / DITA /CMS implementations to Content Optimization.

Tom's Top 3 technical writing tools:
Anthony Olivier

---

Anthony Olivier is Chief Executive Officer of Madcap Software. Prior to founding MadCap Software, Anthony Olivier served as Senior Vice President and General Manager of Macromedia with responsibility for driving the company and product line strategies across its Help, eLearning, and multimedia products.

Anthony's Top 3 technical writing tools:
Ellis Pratt

Director and consulting technical communicator at Cherryleaf

---

Ellis Pratt is Director and Help Strategist at Cherryleaf, a technical writing services and training company based near London, in the United Kingdom. He has over 20 years' experience working in the field of documentation, has a BA in Business Studies, and is an Associate of the Institution of Engineering and Technology. Ellis was ranked the most influential blogger on technical communication in Europe, and he is also on the management council for the Institute of Scientific and Technical Communicators (ISTC)

Ellis' Top 3 technical writing tools:
Neil Perlin

---

Neil is an internationally known consultant, strategist, trainer, and developer for online content in all forms from online help to mobile. He is MadCap Certified for Flare and Mimic, Viziapps Certified for the Viziapps Studio app development platform, and certified in various other tools. He is the author of Essentials of MadCap Mimic 6, Advanced Features in MadCap Flare 11, and Creating Mobile Apps without Coding. Neil writes columns and articles for STC's Intercom and is a popular conference speaker.

Neil's Top 4 technical writing tools:
Tom Johnson

---

Tom Johnson is a technical writer in the San Francisco Bay area of California. He is often recognized online for his blog idratherbewriting.com, which has one of the largest followings among technical writers. He loves writing and exploring tech comm ideas, especially if they touch on API documentation, visual communication, findability, and tech comm trends. He champions the docs-as-code movement and prefers open source, web-based tools that give writers control and flexibility to customize the user experience.

Tom's Top 3 technical writing tools:
Ferry Vermeulen

---

Founder and director of business development at INSTRKTIV GmbH. After first starting his own industrial design agency back in 2006, Ferry co-founded the company Manualise in 2009. In 2015 Ferry started INSTRKTIV. INSTRKTIV helps brands and organisations create their user manuals and technical documentation. By the strong focus on both usability and liability, clients like Electrolux, Lidl, AkzoNobel, AEG, Skil and Scheider-Electric are part of his portfolio.

Ferry's Top 3 technical writing tools:

Solidworks Composer
Madcap Flare
IEC/IEE 82079-1:2019
Compliant User Manual Template


Ferry's explanation:

Solidworks Composer: The only powerfool tool to create userfriendly images in my opinion.

Madcap Flare: A user friendly CMS from a brilliant company that has never let me down.

The IEC/IEEE 82079-1:2019: The international standard for Information for Use.

User Manual Templates: These templates help to create compliant manuals for Machinery, Medical Devices, Toys and Electronics for the EU marketThe international standard for User Instructions.
George Bina

---

George Bina has more than 15 years of experience in working with XML and XML-related technologies and contributes to a number of XML related open source projects. He is one of the founders of Syncro Soft, the company that develops oXygen XML Editor.

George's Top 3 technical writing tools:
Subash Babu Asokan

Senior Content and Community Lead at Adobe

---

A communications professional and manager with 15 years of experience as a journalist, technical writer, editor, team lead, and manager for leading technology companies in networking, security, healthcare, virtualization, and infrastructure management domains. Proven technical and managerial skills and hands-on experience in setting up and managing technical publications groups; training writers and editors, designing high-level content strategy that helps differentiate and enhance the company's brand image and fulfils the information needs of the user community; defining end-to-end content portfolio and specifications according to business requirements and target audiences; designing, planning, writing, and editing technical content for a variety of delivery platforms such as print, web and mobile; user experience (UX) design and evaluation of software and information products; development of marketing, corporate communication, and training content; and project, program, and people management.

Subash's Top 3 technical writing tools:
Marie Louise Flacke

---

Trained by North-American experts, Marie-Louise continuously aims at improving her skills with a view to respond to the user's needs. Attending webinars and conferences, accepting challenging assignments in various European businesses (Eurocontrol, European Council, Intel, Vodafone, Deutsche Boerse, Police Federale…) helps her to be flexible in providing a sound "customer experience".

Marie Louise's Top 3 technical writing tools:

Minimalism principles
Structured technical writing (DITA)
Usability testing and task analysis
MY BRAIN

Marie Louise's Explanation

Minimalism principles: Minimalism is a design philosophy. Minimalism is a use-centered approach because its priority lies in supporting usage of an application. It is also a user-centered approach because it adapts to the audience as much as possible.

Structured technical writing (in particular DITA): DITA (Darwin Information Type Architecture) is an XML architecture for designing, writing, managing, and publishing information.

Usability testing/User & Task Analysis (ISO 9241 -Ergonomics of human-system interaction): Human-centred design is an approach to interactive systems development that aims to make systems usable and useful by focusing on the users, their needs and requirements, and by applying human factors/ergonomics, and usability knowledge and techniques. This approach enhances effectiveness and efficiency, improves human well-being, user satisfaction, accessibility and sustainability; and counteracts possible adverse effects of use on human health, safety and performance.

My Brain: In case there is some space left for a 4th tool it would be MY BRAIN...it helps me think about user-friendly documentation
Nita Beck

Tech comm strategist, information architect, Flare consultant at Beck Communications

---

Nita started the technical communications consultancy, Nita Beck Communications, almost 24 years ago, after having spent a decade first as a corporate technical writer and then as department manager. She has served as information architect, online help designer and author, documentation project manager, web editor, college instructor, trainer and mentor to countless fellow writers. Now she spends her professional time consulting with clients seeking to adopt modern documentation technologies, to "get it right" from the outset.

Nita's Top 3 technical writing tools:

MadCap Flare
MadCap Capture
MS Word operational manual template

Nita's explanation:

MadCap Flare: there is no finer content-development tool in my professional opinion, despite Flare's flaws.

MadCap Capture: I actually prefer SnagIt, but I very much want to take advantage of Capture's integration with Flare, so I would make do with Capture's editing deficiencies in order to use those features that play well with Flare.

Third one … oh, this is tough… It would have to be Microsoft Word because that is the tool that my clients use most often to convey information to me.
Dr. Hans van der Meij

---

After working for a year in the unit of Margaret Wang at the Learning Research and Development Centre in Pittsburgh, Hans started his PhD research on the topic of questioning at the University of Leiden, the Netherlands. Through various projects he became interested in instructional design and technology. This brought him to the University of Twente where he did a range of studies on what is now called e-learning. Recent research revolves around: instructional videos, scaffolding text comprehension, and scaffolding game-based learning.

Hans' Top 3 technical writing tools:

Minimalism principles (theory)
Demonstration-Based Training
Camtasia (tool)
Joe Gollner

---

Joe Gollner is the Managing Director of Gnostyx Research Inc., a company he founded to help organizations to leverage content technologies to achieve sustainable business benefits. Over the past 25 years, he has led over 100 major content management initiatives in a wide variety of industries, including aerospace, defence, software, telecommunications, engineering, construction, education, publishing, government, and healthcare. He has been leading large-scale and leading-edge DITA projects for global enterprises since 2005.

Blogging as the Content Philosopher, he continues to explore how content and content processes can be better leveraged to improve how organizations operate, adapt, and manage themselves. He is also something of an authority on the life & works of the great Irish writer, Jonathan Swift.

Joe's Top 3 technical writing tools:

Joe's explanation:

A rather nerdy selection, but most of my work pertains to the design and deployment of "content technology solutions" as opposed to actually being a communicator. If I was a communicator, my tools would probably look different. Of course, my team mates here at Gnostyx would probably say that the only tools I would be allowed to use would be PowerPoint, Excel, and Chrome.
Professor Wolfgang Henseler

Founder and Managing Creative Director at SENSORY-MINDS

---

Prof. Henseler is founder and Managing Creative Director at SENSORY-MINDS, Designstudio for new media and innovative technologies. At the same time he is a professor at the Hochschule Pforzheim in the fileld of Digital Media.

Wolfgang's Top 3 'smart media and innovative technologies that will become a big influence on techcomm':

Cross industry thinking
Robotic mobility
Natural user interfaces i.e. smart chatbots or amazon echo's alexa
Sabine Stoye

---

Sabine Stoye has a background in Knowledge Engineering and is Technical Communicator at Parson AG in Hamburg, Germany. She develops software documentation and advises clients on the implementation of XML-supported documentation.

Sabine's Top 3 technical writing tools:

Oxygen: I prefer to write in DITA
JIRA: I prefer agile projects
Inkscape: open source and powerful
Franz-Josef Knelangen

Head of the Department of Documentation and Localisation at AKG Software Consulting GmbH

---

Franz Josef is Head of the Department of Documentation and Localisation at AKG Software Consulting GmbH. He has had many years of experience in the field of software documentation and localisation. He was trained to be a publisher and studied Philosophy, German and Music Science (M.A.).

Franz-Josef's Top 3 technical writing tools:
Qian Li

---

Qian Li received a double master's degree in technical communication and computer-aided translation from the University of Twente (The Netherlands) and Peking University (China). She is now a PhD candidate at the University of Twente. Her research topic is cultural differences and technical communication.

Qian's Top 3 technical writing tools:

Arbotrex. Tagtool for writing and publishing. This tool separates content from styling, you can focus on writing and don't need to care about the styling.
Adobe Illustrator for designing illustrations.
Microsoft Lync or other online chatting software to communicate with other people.
Dr. Stefan Dierßen

Managing Director at DiNovum UG

---

Dr. Stefan Dierßen studied mechanical engineering and completed his PhD research at the ETH in Zürich. From 2002 - 2011 he was responsible for product instructions at Intelliact AG. From 2012 Stefan is managing director at DiNovum UG and he helps companies with solving their product data challenges.

Stefan's Top 2 technical writing tools:
Ulrich Pelster

Managing Director at gds GmbH

---

Ulrich Pelster, managing director at gds GmbH, has been involved in the world of 'standards' for many years. His main focus is in the field of PLM/PDM/ERP processes and in process development of technical documentation.

Ulrich's Top 3 technical writing tools:

Docuglobe or Ovidius XR (as CMS and technical writing tool)
SAP (as ERP)
Trados (as TMS)
Wim Hooghwinkel

Information Consultant at

IDTP


Program Manager at Information Energy

---

With his company, iDTP, Wim consults in the field of content and documentation production. His clients are documentation departments, publishers and suppliers, knowledge institutes et cetera. The projects Wim is on vary from practical consultancy and implementation of XML solutions (content management technical writing tools, automated layout projects) to strategies, advice and supporting change management.

Wim is also the driving force behind Information Energy, the annual conference for information professionals. The concept and the rights of the conference have been acquired by tcworld GmbH in 2015. Wim is still responsible for the event as the official program manager.

Specialties: XML, FrameMaker, DITA, content strategy.

Wim's Top 3 technical writing tools:

Adobe FrameMaker
DITA-fmx
DITAToo
Jang Graat

Chief Technologist at the Content Era

---

Jang Graat studied Physics, Psychology and Philosophy before embarking on a fast-track career in the high-tech computer industry. He is a self-educated expert in (parallel) programming, content strategy, information architecture and smart information design. He has delivered countless training courses and presentations to a wide variety of people across the globe.

Jang is an active member of the DITA community and is known for his out-of-the-box ideas. Being a Capricorn, he is never too lazy to put his money where his mouth is, and keep working on his demos until they prove that his sometimes radical ideas can be made to work in real life. In the past few years, he has earned his nickname of 'Geek Philosopher' and he keeps trying to think outside of any conceivable box.

Jang's Top 3 technical writing tools:

Jang's explanation:

Mentioning just the names will not be enough, I guess. I do not want to think that people will make the wrong conclusions when just seeing some terms.

My choices:

DITA - There is not a second standard available that enables you to use your own jargon in XML tags without losing the standard.

FrameMaker - Because FrameMaker contains everything what a techcomm author might want to use: structured and unstructured content, Pdf output (and all other output formats without investing additional time), scripting and XSLT.

oXygen - For the tougher programming works in XSLT, JavaScript, PHP, CSS and all other standards. There is not a single 'Swiss Knife' that offers more than this awesome application. The software has been developed by a bunch of passionate and smart nice guys from Romania.
Magda Caloian

Business Consultant, DITA Expert at FCT AG

---

Magda Caloian is consultant, DITA expert and information architect. She makes it her mission to keep reminding writers that documentation has to be easy to find, easy to understand and easy to use. At the same time she assists content writers and managers to discover and adopt the best author experience for their teams.

Magda's Top 3 technical writing tools:

Books (exactly, real books)
Writing on Post-Its
Mobile Phone
Mike Kelley

Principal Information Developer at inContact

---

Mike is the Principal Information Developer at inContact. A lifelong technology enthusiast, he started his career in tech support, QA, and then tools programming. While studying computer science at Boise State University, he had an epiphany (much to the chagrin of his father) and realized that his immediate true calling was in technical writing. He switched majors to technical communication and hasn't looked back since. Mike has been using MadCap Flare since version 6 and loves to incorporate the latest in web development into Flare output.

Mike's Top 3 technical writing tools:

Technical writing tool - MadCap Flare
Image processing and manipulation - GIMP
Research and knowledge gathering - stackoverflow.com

Mike's explanation:

You ask a hard question that seems impossible to answer without enough guidelines. For example, I'd definitely say MadCap Flare is one of my tools, but I'd include HTML, CSS, jQuery, JavaScript, XML, and so on, even though those could be considered separate tools.
Willam van Weelden

Product Owner Centric Enterprise Collaboration Suite - Centric

---

Willam is a Product Owner of Centric ECS: a collaboration and document management solution for enterprises and governmental organisations. He works with customers and other stakeholders to determine the most valuable additions to our solution.

Willam is an Adobe Community Professional. That means that he is one of six people worldwide who have been acknowledged by Adobe to be experts on RoboHelp. This acknowledgement also indicates that he uses his skills and knowledge to help the entire RoboHelp community. His specialties in RoboHelp are scripting and HTML5. I offer consultancy for these and other aspects of RoboHelp.

Willam's Top 3 technical writing tools:

Notepad++
Adobe Robohelp
Paint.NET

Willam's explanation:

Notepad++: My work on open source, TML5 templates and customising styles requires a lot of technologies like HTML, PHP and CSS. I use Notepad++ as my main tool for most code based manipulations. This tool is free, fast and very reliable. It offers many useful features, such as spell check, syntax highlighting and find and replace over multiple files. The tool has a vast number of plugins available, including an excellent XML plugin.

RoboHelp: This may not be everyone's choice, but RoboHelp does the job for me. RoboHelp's topic based technical writing in XHTML is a great structured technical writing environment without having to step to DITA and everything that requires. For me, RoboHelp allows me to focus on what is important: content. There are good options for reuse and conditional content. The output is functional and modern, supporting all devices. If needed, the outputs can be completely customised as well, though that requires my no 1 favourite tool.
Not everyone may like a tool that doesn't support XML schema's like DITA. And while such schema are great, in a lot of situations it is just too much. RoboHelp is down to earth and allows me to quickly get my content out. And that is what matters most to me.

Paint.NET: I have to admit, graphics are not my strong suit. I love the simplicity of Paint.NET while it does bring much needed power features such as layers and different masks. When it comes to cropping images or full blown manipulation, I always return to this tool. Forget the complicated and slow Photoshop experience. Paint.NET offers all I need, even for professional documentation and commercial imaging. Best of all: it's free and open source as well.
Marc Achtelig

Managing director at Indoition

---

Marc is a self-employed technical writer and user assistance consultant, based in Germany (Nuremberg metropolitan area). He specializes in the creation of user documentation for software and software-driven products (software documentation, software user assistance).

Marc's Top 3 technical writing tools:
Robert Hays

---

Robert Hays has 20 years of experience as a technical writer and content architect, with the last five years focused in an Agile environment. He has edited or created hundreds of process documents as a certified ISO 9001:2008 Lead Auditor. In addition, he has trained writers of all skill levels to thrive in an Agile SDLC by leveraging a deep insight of content development processes.

Robert's Top 3 technical writing tools:
Andrei Essaoulov

Senior API technical writer at kCura

---

Andrei Essaoulov has over 15 years of experience creating documentation for companies like SPSS, IBM, and kCura. He earned his M.A. in English and M.S. in Information Technology from Illinois State University.

Andre has over 8 years of experience on a wide range of projects, including user manuals, online help development, system documentation, policies and procedures, and marketing publications.

Specialties:
Writing and editing
Documentation management and online help development: single-sourcing with Framemaker/WebWorks Publisher, MS Word/Robohelp; Acrobat; XML/XSLT
Graphics/page layout: Photoshop, ImageReady, InDesign, Pagemaker, Visio
Web development: HTML, Dreamweaver, JavaScript, CSS, JSP, ASP/VBScript
Coding/debugging: Java (J2SE/J2EE), VisualAge for Smalltalk, C
Database: relational design, SQL/PL, Oracle 9i, DB2, MySQL

Andrei's Top 3 technical writing tools:

Andrei's explanation:

When I was with IBM, I came to appreciate the power of DITA: at IBM we used ID CMS on the back end, with Oxygen as the XML editor, to publish to the Information Centres platform, succeeded by IBM Knowledge Center. I think DITA, when done right, provides for superior content reuse and separation of the semantic structure from styling.
Since I joined kCura, I've learned to love Flare: It does enable smaller teams of tech writers to single-source and publish great-looking output out of the box, and since it's still HTML, CSS, and JavaScript, I can get almost as creative as I want to be customizing it. And Madcap is continually putting in a great of effort into making it more powerful: For example, the ability to define local variables in Flare 12 is huge.
As always, Notepad++ is a writer's best friend: There are a variety of extensions and plugins for different tasks, and its powerful search and replace with regex enable me to effectively manipulate any text-based content.

As a note, what I bump against a lot recently is the necessity to manage collaboration on content created in different tools: As an API writer I need developer input, I need engineers to write, but they prefer to write Wiki or markdown. I also get input from support and marketing, and they are Word users. So, if I were to create a perfect collaboration environment, it would allow Wiki, and maybe form-based technical writing; it would have markdown/ASCIIDoc capabilities; and also efficiently ingest Word into some kind of XML-based backend CMS. I feel like whoever comes up with that will corner the tech comm technical writing tools market.
Chris Steele

---

Chris offers broad perspectives with degrees in Electrical Engineering and Communication Studies with 20+ years of experience in engineering, UXD (user experience design), translation management, documentation & help systems and help technical writing tools, project management, quality systems, and organizational management across large high-tech companies and small start-ups.

Chris' Top 3 technical writing tools:

MadCap MadPak
Verify
Not to apply our mental model for that of the user

Chris' explanation:

My favourite technical writing suite is MadCap MadPak. It is the best integrated solution for technical writing, translating, and publishing. I particularly like it due to its open architecture based on XML. It can grow with my needs and skills. Additionally, MadCap as a company is deeply invested in continually improving their technical writing tools in multimedia and the support is outstanding.

A good UX tool is priceless. Something like Verify to collaborate and test UI layouts helps build data-driven decision in design. Too often there is contention around untested opinions. A philosophy of research, good practices/methods, with a tool to support the process can align cross-functional team members to create a positive user experience.

As a philosophy, I believe the most important operational truth is not to apply our mental model for that of the user. We need to be researchers, great listeners, innovators, and even psychologists at times. Our job is to understand and solve problems for the user. When we create a product, albeit information, a physical product, software, or some combination, we are creating a user experience. In fact, we are forming a relationship between the user and the product. That relationship is complex as it involves physical interaction, cognitive engagement, and emotional evocation. The experience for one user might differ greatly from another. Our product might be simple; people are not.
Thomas Bro-Rasmussen

---

Thomas graduated with a M.Sc. in human physiology, biochemistry and biology, but has spent the past 30 years in the world of computer graphics and communication. Thomas has divided his expertise equally between design, training and development. His expertise ranges from the intricacy of adjusting a glyph in a font to the million page technical documentation.

Thomas' Top 3 technical writing tools:

MadCap Flare
Notepad++ (at least until I get my plugins going)
Adobe Photoshop & Illustrator (put them as one for image handling), but I need both bitmap and vector image handling. Training and education
Homer Christensen

Founder, content architect and consultant - Ars Longa Writing and Design

---

Homer Christensen is a poet, author, and an award-winning content developer and instructional designer. He consults with corporate, government, and educational clients, building single-sourced help, documentation and training materials. Homer presents nationally at conferences, webinars, and poetry festivals, and was Poet-in-Residence at Salmon Publishing in Knockeven, Ireland. Away from his desk, Homer is a permaculture designer, working a resilient food forest in historic Folsom, California.

Homer's Top 3 technical writing tools:
Andrea Maliska

Director product education and customer experience at Conga

---

Andrea Maliska has over 10 years of demonstrated success in the formulation, execution and measurement of customer facing training programs. She is the Director of the Product Education and Customer Experience at Conga in Broomfield, CO. Andrea's passion lies in finding new approaches to building and rejuvenating training programs in the software industry. She implemented MadCap Flare, Contributor and Analyzer to scale and streamlined the work of her team.

Andrea's Top 4 technical writing tools:

Camtasia
Iterative ADDIE
Sketch
Trello

Andrea's explanation:

Camtasia: highly intuitive and easy to create dynamic, beautiful and engaging videos for training and reference. Techsmith is also just a really cool company with some awesome products.

Iterative ADDIE: This is my own hybrid of the ADDIE model. Instead of waiting until after the Implementation for the Evaluation phase to evaluate the content, I bring in the "E" after each phase. As a team, we collaboratively work on evaluating the design and development so that when it gets to Implementation we have evaluated in several iterations.
Sketch: app for wire-framing and building out mock ups for UX and design. Lighter than having to learn photoshop.

One other that I forgot to mention is Trello. I use Trello for Product Management backlog features, Product Education sprints, etc. and it is free for its base product. They also have an awesome Inspiration Board to get ideas for other ways to use Trello that you can clone and tweak.
Daniel Ferguson

---

Daniel Ferguson has nearly 20 years' experience working in a variety of software and hardware documentation roles. He is a certified MadCap Advanced Developer, Flare consultant, and certified Project Management Professional. He currently runs a technical communication consulting firm, which allows him to use MadCap Flare in a broad variety of environments.

Daniel's Top 3 technical writing tools:
Paul Stoecklein

---

Paul Stoecklein has over 20 years of experience as a writer, editor, and documentation specialist. In that time, he has worked for a wide range of companies, including Anheuser-Busch, Edward Jones, and eHelp Corporation. Since the formation of MadCap Software in early 2005, Paul has headed its documentation department.

Paul's Top 3 technical writing tools:
Mike Hamilton

---

Mike Hamilton has over 15 years of experience in training, technical communication, multimedia development, and software development. Prior to joining MadCap Software, he served as the Product Manager for Macromedia's award-winning RoboHelp® product line. Mr. Hamilton is often a featured speaker at industry events, including TEKOM and STC.

Mike's Top 3 technical writing tools:

MadCap Flare
MadCap Capture
MadCap Contributor, Analyzer or Mimic (depending on the kind of project)

Mike's explanation:

This is a tough question to answer because so many projects have different requirements. I'll provide three separate scenarios where I would make three different selections.

Starting a new project that would involve lots of content from external people:
1. Flare
2. Capture
3. Contributor

Starting a new project that would involve heavy multimedia:
1. Flare
2. Capture
3. Mimic

Inheriting an older project that needed some cleanup and optimization:
1. Flare
2. Capture
3. Analyzer

I always find the combination of Flare and Capture to be indispensable, so my big change is always on the third choice, and I would tailor that for the requirements of the task at hand. I realize that I cheated here a little bit and didn't exactly answer the question as asked, but I hope that this is helpful.
Subscribe for Email Updates
Scott DeLoach

---

Scott DeLoach is the founder of ClickStart, a UA/UX design, consulting, and training company. Over the last 20+ years, he has given more than 150 presentations about MadCap Flare, embedded user assistance, web-based Help, UI design, and CSS at conferences around the world. Scott is a certified MadCap Flare instructor and consultant, the manager of MadCap's certification program, and the author of "MadCap Flare Developer's Guide."

Scott's Top 3 technical writing tools:
Steve Pfeilsticker

---

Steve Pfeilsticker is a knowledge management and technical communications professional with 16 years of experience in technical writing, web/system development, and project management. He is currently a Business Systems Analyst at Express Scripts in Bloomington, Minnesota. For the last two years, his primary focus has been on developing and managing the enterprise-wide internal Knowledge Management System.

Steve's Top 3 technical writing tools:
Dr. Kai Uffmann

Senior Consultant at Intelliact AG, Zürich

---

In 2004, after having studied Physics, including advanced studies in Medical Physics, Kai Uffmann received his Ph.D. from the University Hospital of Essen (Germany). For his doctoral thesis he developed hardware and software for a new method of imaging tissue elasticity with magnetic resonance imaging.

After several years of research of brain metabolism at the Ecole Polytechnique Fédérale de Lausanne (EPFL, Switzerland), he moved to Intelliact AG (Zürich, Switzerland) to work in the field of consultancy for PLM (Product Lifecycle Management) concepts.
In 2010 he received a Certificate of Advanced Studies from the EPFL in Management of Technology with the focus on Biotech, Medtech and Pharma Ventures.

Within the scope of his activities for Intelliact AG he managed projects to develop concepts and to realize adaption & implementation of systems for document management and knowledge management, e.g. at the Swisscom AG Schweiz. Besides concept and realization, project activities include training, on site supervision in German and French, rollout of the software and management of its support.

Kai's Top 3 technical writing tools:
Maaike Groenewege

Content management specialist at LVNL

---

Content is my profession and my passion. I started out very hands-on as a content creator for various audiences, and still write the occasional procedure or system description for air traffic controllers as part of a team of very enthusiastic technical writers. Also, I don't mind a bit of project administration and version control, and believe traceability to be a good thing.

Within my team, I've specialised in content management systems. In 2009, we introduced a DITA-based CMS to get more control of our complex information set. As a result, we're now able to trace changes over the years on a very detailed level, re-use a considerable amount of information, and apply information release and revision management.

We're currently working on the next step: creating a beautiful, usable portal for air traffic controllers where they can find the information they need when they need it. Something I'm really proud of.

Maaike's Top 3 technical writing tools:

IDS, my favourite XML-based component content management system
My bullet journal and pen. I believe in hand written words.
A whiteboard
Andreas Ljungström

---

Andreas Ljungström is a Language Technologies Consultant and Certified CAT trainer at AMPLEXOR. His main areas of focus are consultancy and professional services aimed at streamlining and automating terminology and CAT processes on both the customer and LSP side.

Andreas' Top 3 technical writing (CAT and PLM) tools:

Andreas' explanation:

XTM – because it is a dedicated online editor which allows for collaborative translation and revision in an easy-to-learn environment. It is natively XML-based and flexible to cater to most needs. No installation, no hardware, no hassle.

SDL Studio 2015 – Studio is the market leader for good reasons. As a desktop solution, it comes with a great scope of functionality and productivity boosting features.

memoQ – Studio's little brother that is getting bigger and bigger with every version, and more and more reliable and comprehensive.
Jeanine Kim Shepstone

Technical Writer at DEIF A/S

---

A versatile technical writer with 8 years of experience writing and developing systems for a variety of companies. Jeanine's qualifications include degrees in chemical engineering and law. She enjoys understanding and explaining complex technical products and systems.

Jeanine's Top 3 technical writing tools:

oXygen
Visio or Powerpoint
Acrolinx, Captivate, Snagit and a Treadmill desk

Jeanine's explanation:

Your question looks easy, but in my humble opinion is rather difficult! Firstly, unless a tech writer moves around a lot, he/she is likely to have limited experience of tools. So one can say what one likes/doesn't like about the tool one is using right now, but it's rare to have a deep insight into other tools. In fact, even if one changed tools, it's not fair to compare a tool from, say 5 years ago, to another one today.

In my current job, the content is very knowledge- and text-based, so I want:

oXygen - A DITA-based content management system for effective text reuse, with an technical writing interface (preferably oXygen), publication, and workflow (especially review and translation) management capabilities.

Visio or Powerpoint - A simple drawing tool: Visio is easy to learn and use. If you don't want to invest in a drawing tool, for simple illustrations, you can get surprisingly far with good old PowerPoint.

Acrolinx, Captivate, Snagit and a Treadmill desk - One of these luxury tools that I don't have today. Something to intelligently optimise my text content: Acrolinx is the clear leader here. Something to make videos: "Show, don't tell". Adobe Captivate can handle a variety of requirements (but to be able to do the whole job, I recommend buying it with After Effects and Premiere). A powerful tool to take and process screenshots: Snagit is the clear leader here. A "treadmill desk" to make me happy and healthy: See https://en.wikipedia.org/wiki/Treadmill_desk for a summary, and https://www.cnet.com/news/my-life-with-a-treadmill-desk-e-mail-and-browsing-at-2-mph/ for a positive experience.

However, if the size of the documentation, reuse and translation were less of an issue, I'd want a more visual technical writing tool. This would allow more visually appealing and compact content. Depending on the requirements, I'd consider InDesign, FrameMaker and Flare.

You'll probably notice that I didn't give a system name for tool number 1.This was deliberate, for these reasons: 1) "It depends". Is the company big enough for one of the biggest systems? Or is the company at that awkward medium-size, where the simplest systems aren't enough, but the biggest are out of reach? While DITA is open-source, content management systems inevitably include vital system intelligence, which locks users in. A content management system is a huge investment, but it can be worth it, because it makes content easy to produce and manage. The problem is that there's so much that can go wrong, and the content management system can end up being an expensive nightmare which you can't wake up from. 2) The implementation is very important. If thorough, intelligent design is absent, the day-to-day users will feel it. These users will perhaps blame the system, rather than see that the problem is in the implementation. One has to understand the technical content production process exceptionally well (or spend a fortune on consultants) to implement a system well. But even with a good system, there should be money in the budget for correcting implementation bugs and continuous improvement. And of course the system should be able to grow with the organisation. 3) I don't think that I'm enough of an expert here. I know what I want, and that it's probably available. The problem is that I don't have it yet, and so my experience is too limited.
Nolwenn Kerzreho

Technical Account Manager at IXIASOFT

---

As the Technical Account Manager for IXIASOFT in Europe, Nolwenn helps customers realize the benefits of structured content, cross-silo collaboration, and DITA content management. An associate teacher in Rennes University, Nolwenn has a keen eye on the evolution of skills for technical communication.

Nolwenn's Top 3 technical writing tools:

IXIASOFT's DITA CMS
Acrolinx or HyperSTE
DITAWeb, FluidTopics or Zoomin

Nolwenn's explanation:

The thing is, I don't think *tools* get the job to the tech writer… I'd rather talk about methodologies (how the tech writer can retain his job in the future): topic-based technical writing, structured content, minimalism, user-centred content, taxonomy management, content modelling…

However, my advice for young content strategists/tech communicators would be:
Any project management tool that captures and tracks content initiatives, possibly with a predictive view or predictive calculation.
Practical knowledge of a DITA-aware editor (latest, accessible and most exhaustive content model).
Content management system if possible, versioning system if not – any tool that brings up collaborative/sharing issues, taxonomies, templating of single-source content.

For *tools*, if you want names:
The DITA CMS from IXIASOFT (embeds oXygen) for edit, review, control and publish
A semantic checking tool such as Acrolinx or HyperSTE
A dynamic delivery portal, for example a web technical writing tool like DITAWeb, FluidTopics or Zoomin)
Akash Dubey

Director of Technical Publications and Localization at iManage LLC

---

Akash Dubey works with iManage LLC as Director of Technical Publications and Localization. He has nearly 18 years' experience in the field of technical communication and has worked with multinationals such as Hewlett-Packard, Siemens, Cisco Systems, and EMC Corporation. Akash heads India's largest and oldest community of technical communicators and language professionals, Technical Writers of India (TWIN).

He has made several presentations on API Documentation and Content Management Systems at regional and national conferences/learning sessions. He has been invited to many national and international panel discussions on leadership, outsourcing, and project management challenges in emerging economies. He was instrumental in starting India's most affordable and high-quality technical writing training program, which is supported by Institution of Engineers (India). In addition, he has been working with various TWIN volunteers on several pan-India initiatives pertaining to technical writing.

Akash's Top 2 technical writing tools:
Dimiter Simov

Usability consultant, interaction designer and information developer at SAP Labs

---

Dimiter is a usability consultant, interaction designer, and information developer. When he started in 1997 as a technical writer, he used to write to help to tell users how they were supposed to use the software. Now Dimiter helps companies build software that people can use without instructions. It's hard.

Dimiter's Top 3 technical writing tools:

Excel - you can do virtually everything with it
Axure - for prototyping
Snagit - obviously for screenshots and basic image processing
Marion Randelshofer

Partner and Head of Translations Department at World Translation

---

Marion Randelshofer is a Partner and the Head of the Translations Department at World Translation A/S in Aarhus, Denmark. Marion has a university degree as a translator and has 15 years of experience in the translation industry, focussing on CAT-tools, terminology and translation management optimisation.

Marion's Top 3 technical writing tools:
Prof. Jan Engberg

---

Jan Engberg is Professor of Knowledge Communication at the Department of Business Communication, School of Business and Social Sciences, University of Aarhus, Denmark. His main areas of research interest are the study of texts and genres in the academic field, cognitive aspects of domain specific discourse and the relations between specialised knowledge and text formulation as well as basic aspects of communication in domain-specific settings.

His research is focused upon communication and translation in the field of law. He is especially interested in the links between the knowledge of individuals and conceptual meaning in fields of specialized communication and the implications of these links for the way we conceptualize meaning. Furthermore, he is co-editor of the international journal, Fachsprache, and member of the editorial or advisory boards of a substantial number of international scholarly journals.

Jan's Top 3 technical writing tools:

Drewer, Petra (2003): Die kognitive Metapher als Werkzeug des Denkens. Zur Rolle der Analogie bei der Gewinnung und Vermittlung wissenschaftlicher Erkenntnisse. Tübingen: Narr.
Richardt, Susan (2005): Metaphor in Languages for Special Purposes. Frankfurt a.M.: Lang.
Ziem, Alexander (2008): Frames und sprachliches Wissen. Kognitive Aspekte der semantischen Kompetenz. Berlin/New York: de Gruyter.

Jan's explanation

I do not work personally and practically in the field of techcomm, so I know very little about actual tools. Concerning theories, I find the frame approach and the metaphor approach especially relevant.
Sarah O'Keefe

Founder and President at Scriptorium

---

Sarah O'Keefe is the chocoholic founder of Scriptorium and a content strategy consultant. Scriptorium offers content strategy services to help customers solve business problems and achieve strategic goals. Since founding the organization in 1997, Sarah has worked with numerous organizations to assess content issues, develop solutions, and implement new technologies that unlock content value.

Sarah's Top 3 technical writing tools/methodologies:

Structured content (XML)
Managed terminology
Automate tasks where humans don't add significant value
Vanya Kiritzova

Senior Manager Information Experience at VMware

---

Vanya Kiritzova is a Senior Information Experience Manager at VMware, leading a global team of writers in Bulgaria and India. She has 8 years of experience managing technical writers, building teams, fostering new ideas and innovation. She is one of the founders of the first ETC conference in 2010.

Vanya's Top 3 technical writing tools:

Automation
Analytics
Talent

Vanya's explanation:

My three "tools" would be: automation, analytics, and talent. Automating production tasks frees up time for research and innovation. Analytics of product documentation drive content decisions and strategy. Talent is the most important asset of a tech comm department. You can change tools and technologies much quicker and easier than growing and developing talent.
Justin Brock

SEO Strategist at Bomgar

---

Justin Brock is the SEO Strategist at Bomgar Corporation. In his former role as technical writer, Brock developed a search engine friendly approach to MadCap Flare Webhelp targets and created an open source project (Flarestrap) which helped define the SEO requirements for webhelp built with Flare.

Justin's Top 3 technical writing tools:

MadCap Flare (for publishing)
Camtasia Studio (for video)
Google Analytics (for Post-Publishing Feedback for Web) and Wistia (for Post-Publishing Feedback for Video)

Justin's explanation:

MadCap Flare- I do a lot of technical writing, but most of it nowadays in the analog world with a nice pen and notebook (college ruled only!). However, once all the drafting is done, you've got to publish. If I were limited to ONE TOOL for publishing, I'd go with Madcap Flare. The versatility of web, pdf, ebook, and mobile makes it the best one-stop shop for getting your content out there in multiple formats. We did our documentation site with Flare.

Camtasia Studio- When you've got a software product to write about, sometimes the text isn't sufficient. That's why we make lots of videos at Bomgar. Nothing works better for product demonstrations. You could, of course, use some fancy video editing software from Adobe or Apple. However, for those of us who don't make videos every day, a simple, straightforward tool like Camtasia is just right. With Camtasia, you can record your screen, your webcam, or import video files. It's easy to tie all these together then lay a voice over on top of it. Here's an example of a video I made with Camtasia. Also, if you're curious about the voiceover, a quiet room and a Yeti Blue microphone works fine.

Analytics – for Web https://www.google.com/analytics/; for Video https://wistia.com- Once you've put in a ton of effort to write or make videos, you want to know how people interact with your content. I mean, what writer doesn't want to know how the audience is finding or interacting with what he or she wrote? All my content goes on the web, so I don't really have many tips for print people … other than to tag the links in your PDFs with Google UTM parameters. With Google Analytics, I can see and derive insights about whether my readers are finding my content, how they find it and what they do after they've found it. Better web analytics are out there on the market, but when it comes to free, you can't beat Google Analytics. For videos, on the other hand, it's worth paying for Wistia. Wistia gives you heatmaps for your videos. You can see what parts people skip, when people stop watching, and what parts they watch again.
Tsvetelina Ilieva

Leed technical writer at Software AG

---

Tsvetelina Ilieva is a Lead Technical Writer at Software AG. She started in Technical Writing about eight years ago. She has worked on various projects that involved creating and updating documentation for enterprise integration software. She recently received her MA in Technical Communication from Sheffield Hallam.

Tsvetelina's Top 3 technical writing tools:
Rahel Bailie

Chief Knowledge Officer at Scroll LLP

---

Rahel Anne Bailie is a results-driven, seasoned professional with a strong track record of developing successful digital content projects. She brings a strong understanding of the complexities of managing the editorial and technical aspects content, throughout the entire content lifecycle, to ensure that content is the driver for existing and emerging channels within the context of a rich customer experience.

Her strength as a diagnostician means applying strategic analysis across a range of organisational requirements, aligning the needs of the business, customers, content, and technology, to deliver compelling experiences into existing channels and allow for rapid adoption of emerging channels.

As Chief Knowledge Officer at Scroll, she also teaches in the Content Strategy Master's Program at FH-Joanneum, runs the Content, Seriously meetup, and is working on her third book on writing structured content. She is a Fellow of the Society for Technical Communication, co-author of Content Strategy: Connecting the Dots between Business, Brand, and Benefits, and co-editor of The Language of Content Strategy.

Rahel's Top 3 technical writing tools:

An XML editor
A Component Content Management System
A tool to do XSL transformations
Ute Mitschke

Freelance Information Architect

---

Ute Mitschke is an information architect and, since 1994, has been involved in automation, structuring, CMS and Adobe Framemaker. She is self-employed as a consultant and trainer and develops modularisation concepts, converting routines and XML-based technical writing and publication processes.

Ute's Top 3 technical writing tools:

Modularisation
Adobe FrameMaker including efficient ExtendScripts
Optimal information architecture
Eric Reiss

Chairman and CEO at FatDUX

---

Eric Reiss has held a wide range of eclectic jobs including piano player (in a house of ill-repute), senior copywriter (in an ad-house of ill-repute), player-piano repairman, jukebox restorer, pool hustler, school-bus driver, cartoonist, magician, adventure-game creator, starving student (Washington University in St. Louis), showboat actor (Goldenrod Showboat), and stage director (Danish Royal Theatre). The breadth and depth of his experience have served him admirably as a usability professional, although he is generally unable to explain exactly how.

In other past lives, Eric has been a two-term president of the Information Architecture Institute, a professor of Usability and Design at IE Business School in Madrid, Spain, and a leading collector of late 20th century parking tickets. Today, Eric is CEO of the FatDUX Group in Copenhagen, Denmark, an international user-experience design company with offices and associates in over a dozen cities worldwide. He also has several books to his credit, including the best-selling Usable Usability (John Wiley, 2012), which is actually a user-experience book in disguise.

Eric's Top 3 technical writing tools:

Camtasia Studio for recording and documentation
SurveyMonkey for written surveys
Skype for person-to-person interviews

Eric's explanation:

To be perfectly honest, I'm not sure it really matters which tools one uses when working with UX in general and usability specifically. First of all, the tools change and evolve regularly, so what may be a good tool today can easily be replaced by something better at any time. Second, a tool is never better than the person using it; just buying, for example, Camtasia Studio from TechSmith for screen recording (which is a very solid and widely used suite of products) will not make the quality of your work better.

I see a danger these days with products such as UserTesting (an online service), or Crazy Egg (also online) in that these services allow companies to acquire a large amount of quantitative data, but not necessarily gain the insights needed to truly improve whatever they are testing. I've always believed that one insight is worth a thousand data points. Also, there is a sad tendency to believe that A-B testing will provide all the answers. This is simply not true.

Is a green button better than a red one? In truth, the colour of the button is not something that can effectively be tested in isolation. Other factors, such as the colour of other links or interactive affordances on a site or app will have an effect, as will the design, placement, position vis-à-vis the fold, and much more will influence the results. Time of day, age of respondents, and the preponderance of colour-blindness within the main target group – the list of variables go on and on. Simple A-B testing, while attractive because it provides a simple quantitative answer, does not always provide the qualitative insights necessary.

But let me return to the people designing the usability test themselves. They are the truly important tool – and they need to embody three key qualities: curiosity, empathy, and passion. Without these, no user research will ever truly succeed.

Internal politics also affect the outcome. Time and again, I've seen customer satisfaction surveys that have been written in such a way that the results are almost always weighted in a positive direction. I wish people would learn how to write a useful survey that provides truthful and honest results, even if the answers may be difficult to accept – access to SurveyMonkey is just the means to an end.

Finally, one of the biggest hurdles in usability testing today is not choosing the right tools but finding the right respondents. Even if you ask the right questions, if you are asking them of the wrong people, your results will be skewed. Happily, there is now a growing business in recruiting respondents. For example, I am on the Advisory Board of testingtime.com in Zürich, which helps companies locate qualified respondents and schedule subsequent user tests.
Patrice Fanning

---

Patrice Fanning studied and taught technical communication at the University of Limerick in Ireland to Masters' level students. She worked with SAP for six years as a technical writer and later as a project and people manager. In 2011, she set up TWi Ltd. to provide fully managed high-quality documentation solutions and training to leading multinationals. TWi now has a team of over 50 people, mainly serving clients in ICT, pharma, medtech, and utilities.

Patrice's Top 3 technical writing tools:
Tristan Mitchell

Product Manager at DeltaXML

---

Tristan Mitchell is DeltaXML's Product Manager with responsibility for future product direction. Over the last 10 years, his work as a Senior Developer and Solutions Architect for DeltaXML has given him a deep understanding of the products and a passion for helping customers to make the most out of those products. Tristan is also a father of three beautiful girls, a movie-lover, and a keen runner.

Tristan's Top 3 technical writing tools:

Tristan's explanation:

The tools and standards that I make the most use of are oXygen and DITA. Although they're not exclusively TechComm tools, I'd include our own comparison products in there as well! They are certainly useful for supporting the document lifecycle at various points when you need to identify and visualise how content has changed.
Lynda O'Leary

Technical Writer/Developer at HP Enterprise

---

Lynda O'Leary is an enthusiastic technical writer with over 8 years of experience in the IT industry. She is responsible for creating user-focused documentation across multiple projects, and was awarded Distinguished, Excellence, and Merit awards from the Society of Technical Communication (STC) for online help and user support material. She currently uses MadCap Flare to develop single-sourced content in PDF and help formats and Git/GitHub for collaborating on team and open-source projects.

Lynda's top 3 technical writing tools:

MadCap Flare
GitHub
Atom text editor

Lynda's explanation:

MadCap Flare is an intuitive tool, great for single-sourcing and publishing content in multiple formats.

GitHub enables collaborative writing, accessible documentation and visibility of your work (portfolio). I love GitHub pages too :)

Atom text editor has Git integration and has a great user interface.
Anthony Apodaca

---

Anthony Apodaca is a Business Development Executive at Xeditor by day and comedian by night. He credits the Upfront Theater in Bellingham, WA for getting him hooked on comedy and the Annoyance Theater in NYC for making him love it. He currently performs and directs improvisation and sketch shows in Seattle, where he is also a proud cast member of Comedy Sportz.

Anthony's top 3 technical writing tools:

OmniFocus - So many tasks!
Evernote - Sometimes you generate a lot of thoughts, and so it's to have some way to organize the disorganization.
Improvisation - Learn to listen, fail, play, and build relationships.
Lukasz Gornicki

Product owner - SAP Hybris

---

Lukasz Gornicki is an Ex-technical writer, currently a Product Owner. Responsible for a portal with technical documentation, not only its Feel & Look but also the process of its portal's content delivery pipeline. As an enthusiast of generation and automation, means then he can put more effort on tasks that require brain and focus.

Lukasz's Top 3 technical writing tools:

Documentation Continuous Delivery
Static Site Generators like DocPad, Jekyll, Sphinx, GitHub
Github

Lukasz's explanation:

Documentation Continuous Delivery: a Methodology that we use for the last 2 years in SAP Hybris. It is about having a solution that allows you to easily scale the content delivery process across an organisation without the need for any special on boarding. It is about enabling delivery development teams to provide as much content as often as they need with just one click. I've presented it at a few conferences already: https://github.com/derberg/documentation-continuous-delivery. This year I talk more specifically about the approach and its usage with Microservices infrastructure and will present the tooling for it that we are open sourcing before the end of this month.

Static Site Generators: My favourite is DocPad but there are many others. Jekyll is the most popular. Another one is Sphinx that is supported by the Write the Docs community.

GitHub and its free GitHub Pages hosting that enables this whole new ways of generating and hosting documentation content.
Noz Urbina

---

Noz Urbina is a globally recognised leader in the field of content strategy and customer experience consultancy who can effectively bridge organisational and user goals. He's well known as a pioneer in adaptive content modelling for delivering rich, personalised, and contextually relevant content experiences. Being able to speak the languages of business, technology and content has been a key asset during a diverse project background covering multi- and omnichannel strategies. He is co-author of the book "Content Strategy: Connecting the dots between business, brand, and benefits".

He has coached teams, developed processes and spearheaded solutions that have helped organisations leverage content assets to stand out in their sectors, while avoiding headcount increases and wasted costs. After 14 years in the content world, he founded his consultancy Urbina Consulting in 2013.

Noz's Top 3 technical writing tools:

Microsoft Excel
DITA
Adaptive Content Modelling and Customer Journey Mapping

Noz's explanation:

Content strategy: Good old Microsoft Excel. Content Strategy Connects the Dots Between Business Brand and Benefits... so Excel, with its capacity to handle sorting, filtering, some basic reuse concepts, structured information, taxonomy and metadata lists, URLs and on and on, makes it the workhorse of any content strategist as far as I am concerned.

Standards - DITA is my standard of choice. It was always good and it's changing with the times. Now with more emphasis on DITA light, HTML interoperability and standards for marketing, it's getting better than ever.

Techniques - Adaptive Content Modelling and Customer Journey Mapping (two sides of the same coin) are my current passions. My customers too. To do adaptive content properly, you need to map the customer journey, and now there are some techniques available to handle the extreme complexity of multiple touch-points, content sets and audiences in manageable ways. Large enterprises are flocking towards these techniques to be the first ones to handle context-driven content by channel, region, audience segment or format.
Tony Self

---

Tony Self has worked as a technical communicator for over 30 years, specialising in online help systems, computer-based training, and hypertext documents. In 1993, Tony founded HyperWrite, which offers consultancy services in online and Internet strategy, innovative solutions, and specialised training. In addition to his consulting work, Tony is an Adjunct Teaching Fellow at Swinburne University of Technology. He is a Fellow of the Institute of Scientific and Technical Communication, and holds a PhD in semantic mark-up languages, a Graduate Diploma in Technical Communication, and a Graduate Certificate in Teaching and Learning in Higher Education. He is the author of the DITA Style Guide.




Tony's favourite technical writing tools:

I don't really have favourite tools; although I am an independent consultant and trainer, I support a range of tools, including Flare, oXygen, RoboHelp, DocToHelp, XMetaL and AuthorIt. The nature of my consultancy also means I end up doing the tricky tasks that others get stuck on. If I am working on my own projects, I will probably use oXygen, because I want to work within the DITA standard. For other incidental documents, I will tend towards Google Docs. Another tool that I use a lot is Helpware FAR, a find-and-replace utility that is incredibly useful when working with large XML- or HTML-based document sets. I use it alongside oXygen, Declaration of Conformity, Flare and RoboHelp projects.

I should also say by way of observation that the program I spend most time working in is probably Outlook! I'm using it now to respond to you.
Richard Hamilton

Founder and CEO at XML Press

---

Richard L. Hamilton is Founder and CEO of XML Press. He began his career at Bell Laboratories developing computer software and has worked at AT&T, Unix System Laboratories, Novell, and Hewlett-Packard in jobs ranging from software development to product management to documentation management.

In 2008 he founded XML Press, which is dedicated to producing high quality, practical publications for technical communicators, managers, marketers, and the tools builders and engineers who support their work (visit XML Press Publications for more information about XML Press).

Richard is the author of Managing Writers: A Real-World Guide to Managing Technical Documentation, and editor of the 2nd edition of Norm Walsh's DocBook: The Definitive Guide, published in collaboration with O'Reilly Media.

Richard's top 3 technical writing tools:
Daan Assen

---

Daan is an entrepreneurial executive with management and new business development experience in Technology and B2B services companies. He holds Degrees in Behavioral Science (MSc), Business Administration (MBA) and Marketing (RM / EMP). Daan gained broad international working experience in several industries and varying roles. He has the ability to communicate fluently in Dutch, English and German with good intercultural awareness. With his business insight and leadership capabilities, he has lead complex organizations, projects and multidisciplinary teams to success.

Daan's top 3 technical writing tools:
Liduine Reuser

---

I founded ScripTech in 2008. Since then, technical writing and editing is my core business.

I write all kinds of technical documentation, like:

• user's manuals for end users of a (software) product,
• handbooks and system guides for technical specialists,
• work procedures and instructions for manufacturing engineers,
• courses at several levels.

Liduine's top 3 technical writing tools:

MS Word
STE
Any photo editor
Berry Braster

Sales Director, Technical Documentation Services at Etteplan

---

As Sales Director of Technical Documentation Services, Berry's responsibilities include creating and monitoring Etteplan's global sales and marketing activities for the technical documentation service area, assisting our growing customer base with their technical documentation needs, e.g. implement cost efficient solutions through our way of working, productized service offering and China service offering.

Berry also is frequent speaker at international conferences, and has written numerous articles for the technical communication industry on how to efficiently create, manage and publish technical information. He has given multiple workshops and training sessions around the world on the benefits of controlled authoring standards like Simplified Technical English.

Berry's top 3 technical writing tools:

Standards: STE for text, STI for illustrations, (DITA) XML for structure.
Tools: HyperSTE for STE, CMS's like DITA CMS of Ixiasoft, XML editors like Oxygen of XMAX
Els Wagenaar

---

Els Wagenaar is a Technical Information Advisor at Verebus and has been making technical documentation since 2008. Els worked in various industries: Marine & Offshore, Defence and Rail. All her documentation projects concern large and complex installations in an industrial environment. For Verebus Els teaches the course Technical English. Els was in the committee that wrote the new NEN 5509.

Els's top 3 technical writing tools:

Document Specification (Verebus Checklist/Tool)
Mindmapping (Buzan)
MS Word
Eva van Genechten

Content Strategist

---

As a content strategist I analyze, plan, write, edit, distribute and manage content. I help companies achieve their online goals by maximizing the (commercial) impact of their content. I'm the link between editorial, marketing, IT and content experts. I'm both analytical and practical, and always focused. I have extensive experience with the migration of websites and optimization.

Eva's top 3 technical writing tools:

Post-its & whiteboard
Feedback of the end-user
Open source
Tim Haaksma

---

Tim is currently teaching at the University of Twente, Department of Behavioural Sciences (mainly Communication Science). Before that, he studied in Technical Communication, where he did research focused on developing the concepts of usability and user exp

Tim's top 3 technical writing tools:
Peter van Bart

---

Since 1986, Peter has worked in knowledge management, documentation and training for high-tech customers. He likes to develop smart solutions to transfer and manage knowledge. What he particularly likes about his work is that it always brought and brings him into contact with many interesting people and companies. Peter's background is study in the Dutch language and literature with minors in linguistics and logic. Later he acquired a Nima B degree in marketing.

Peter's top 3 technical writing tools:

Critical rationalism of Karl R. Popper
Minimalism (John Carroll and Hans van der Meij)
Lean Management principes
Sarah Corney

---

Sarah Corney is the Head of Digital Production at the Chartered Institute of Personnel Development, London, and has over 20 years of experience spanning all aspects of content production and technology, digital publishing, as well as people and project management. Her current remit includes CIPD's corporate website and microsites, eLearning authoring tools, digital content production (including video, animation, and graphics), and digital learning.

Sarah is currently leading a number of transformative projects at CIPD, including a website redesign and a CPD platform, as well as introducing "digital first" thinking and a "create once, publish everywhere" content management solution. Fascinated by technology, how things work, but also by how we work, Sarah blogs about content, digital production, collaborative working, organisational change and elearning at https://contentrevolutionblog.wordpress.com.

Sarah's Top 3 technical writing tools:

Google docs/Google+ (How we work)
Evernote (How I work)
easyDITA (How our content works)

Sarah's explanation:

Google docs/Google+ - Without an enterprise document management system we use Google docs for collaborative working and version control. Simple but effective. We also use Google+ within the team to curate and share interesting digital 'factoids', maintaining individual and collective CPD (continual professional development) - critical to those working in as fast-paced an industry as ours.

Evernote - Ann Rockley, no less, introduced me to the pleasures of Evernote. I keep everything in there - it's the map of my brain (or how my brain might work if I were Data from Star Trek). I worked with the free version for years, but upgraded earlier this year and don't regret it - the web clipper alone was worth the money.

easyDITA - XML consultants Mekon helped us (with their Conference Room Prototype process) to choose a suitable Component Content Management System that met our business and content requirements. True to its name it really does make DITA XML easy, particularly in terms of the technical writing interface, plus the guys at Jorsek are a pleasure to work with. Recommended.
Andrew Lawless

President and Chief Inspiration Officer at Rockant

---

Andrew Lawless is a best-selling author, speaker, writer, business owner, and a reference point for aspiring professionals who help US businesses generate $2.4 trillion of revenue each year. His company, Rockant, automates global digital marketing, and helps you speak with one voice in all marketing channels and all languages for maximum brand impact worldwide. As President and Prime Mover of Rockant and Lawless GuidesTM, Andrew keeps a razor-sharp focus on inspiring and priming localization professionals for success.

Andrew's Top 3 technical writing tools:

Andrew's explanation:

Termweb- I have yet to find a customer who does not have at least five different versions of the same product name published. and then there are different translated version of each target language version. Different treatments in hyphenation, capitalization, intercapping, spacing, and use of plural or possessive forms are often just the beginning. Add to it where and how to place company names, model and edition identifiers and term chaos is imminent. These variations weaken trademark protection and also confuse customers and sales teams. At times to a point where neither of them knows anymore if two documents refer to the same product.

Acrolinx- Being able to communicate complex issues in a way that they are easily digested and understood. No matter what language, chances are that readers have limited command of it, even for highly specialized documents for an educated audience. Not always is the reader a native speaker. A clear and engaging writing style increases user acceptance of a new product, procedure or concept. Acrolinx helps to achieve exactly that - and enforces terminology.

Github- Component content management systems (CCMS) can cost hundreds of thousands of dollars, plus the cost for implementation, training, and converting all your content to DITA XML. Welcomed alternatives to help interact and collaborate on technical content are revision control systems like Github and Bitbucket. Unlike CCMS, revision control systems close the gap between technical writers and engineers as they will work on the same platform.
Asit Pant

Senior Manager, Content and Community at Adobe

---

Asit Pant is a veteran content and communication professional with a rich experience in communicating with a diverse range of audience across various media. He believes that content should align with business objectives and not exist in a vacuum - for that's when it serves the users the best. Asit is a technology enthusiast, gadget freak, and a dabbler in poetry.

Asit's Top 3 technical writing tools:

Adobe FrameMaker
Adobe Captivate
Adobe Experience Manager (AEM)
Ivan David Vaseekaran

Senior Content and Community Lead at Adobe

---

David is a Technical Writer with Adobe Systems, Inc. He started out as a Software Development Consultant, working on Document Management and CRM solutions for the World Bank and Epson Corporation. But he found his true calling when he started to document the software he built - and it has been a fun journey ever since. Writing about code and software that promotes creativity/productivity has been a highly fulfilling experience, and he is almost always gushing about being among the first users of any new technology or software at Adobe.

How he can visually or creatively enhance his current or next project is a topic that keeps him up at night. Easily enticed with coffee, dark chocolate, or gossip about the latest fighter aircraft, you'll often find him poring over sheet music trying to figure out what those doodles mean. "Whaaa...? They're not doodles?!?"

David's Top 3 technical writing tools:

An technical writing tool. No frills, even if with just text input, with the ability to define types of information going in. My favourites are Adobe FrameMaker, Word, and AuthorIT.
A layout tool. A template tool that shows me what the potential output is going to look like. I like a scripted solution, but I like Adobe InDesign, or Framemaker templates.
A publishing tool. An output-creation tool that actually churns out a PDF, HTML, CHM, DOCX, or other such format files. A scripted, automated, in-house built solution, etc, using Adobe Distiller or other engine.
Craig Wright

---

Craig Wright is director and technical writer at StrayGoat Writing Services Ltd., based in Chesterfield, UK. He has 19 years' experience as a technical writer, working predominantly on software and hardware in the utilities, energy, cooling, and health industries. He is a fellow of the Institute of Scientific and Technical Communicators, a certified MadCap advanced developer, and has a BA Hons in Technical Communication.

Craig's Top 3 technical writing tools:

MadCap Flare
Adobe Photoshop
Atlassian Confluence

Craig's explanation:

MadCap Flare - The flexibility of snippets and conditions makes Flare my #1 choice, plus they have a great support team. For the most part, it can do everything my clients need (although there's room for improvement with HTML5 menus).

Adobe Photoshop - I use it for pretty much all graphics and photos. Nothing I've used comes close.

Atlassion Confluence - A nice tool for collaborative, wiki-style help. Lots of features and easy to use. Wouldn't recommend the cloud version though.
Prof. Dr. Markus Nickl

Managing Director at doctima

---

Prof. Dr. Markus Nickl is owner of doctima GmbH and Honorary Professor at Aarhus University. He founded doctima GmbH in 1998. Comprehensibility, documentation workflows and social media are the focus of his work. He publishes regularly on these topics. Markus Nickl advises tekom-members on questions related to language. He has been an honorary professor at the University of Aarhus since 2012.

Markus' Top 3 technical writing tools:

SCHEMA ST4
Acrolinx
MS Office (unfortunately still indispensable for most communication with customers.
Ben Aston

---

I'm Ben Aston, a digital project manager and founder of The Digital Project Manager, the largest online resource for digital project managers. I've been in the industry for over 10 years at top digital agencies including Dare, Wunderman, Lowe and DDB. I've delivered everything from video virals to CMS, flash games, banner ads, eCRM and eCommerce sites across automotive, utility, FMCG, and consumer electronics brands.

Ben's Top 3 technical writing tools:
Ton van Uden

---

As an expert in the field of 3D technical animations and illustrations for all types of technical documentation and training modules, he concentrates his efforts on the content visualization
techniques of present and future. The role of images in the transmission of information has rapidly been growing and Ton helps his customers to visualize their technologies and procedures and make them clear for everybody.

His extensive experience in creation of technical documentations and visual materials for technical training and courses forms the basis of his cooperation with educational institutions and companies.

Ton's Top 3 technical writing tools:

3Dvia
PTC Arbortex IsoDraw
Adobe Illustrator CC


Ton's explanation

3Dvia - 3DVIA: This 3D technical communication software gives an excellent connection to the source documents from the engineering.

Arbortex - A standard in the technical illustration field for aircraft construction and military industries.

Adobe Illustrator - Proven software for the production of high-quality illustrations.
Ray Gallon

---

Ray is president and co-founder at The Transformation Society. He calls himself a humanist nerd. that works at the frontiers of new technology, transformation in the deepest sense, change when change is necessary and never for its own sake.

He loves the points where culture, communication and technology meet, and that's what his company, The Transformation Society, is all about.

Ray's Top 3 technical writing tools:

Structured text with rich metadata
Rich media
Contextualisation engine (this technology is yet to be developed)


Ray's explanation

I think the choice of tools is dependent on the situation, so I won't pick any product, but, as some others have done, three principles:
This post is brilliant, right? So many authoring tools examples I never heard of as well.
Huge thanks to everyone who contributed to this massive post!
Please share if you find it useful. And,... if you could only use 3 tools for your technical authoring, which 3 would you use?
Ferry Vermeulen is a technical communication expert and director at INSTRKTIV. It's Ferry's mission to create digital user instructions for all products in the world. Listen to the INSTRKTIV podcast on Spotify or read one of his latest blog articles.

Linkedin I Spotify I YouTube I Facebook I Twitter
DO YOU WANT TO KNOW HOW YOU CAN CREATE A COMPLIANT USER MANUAL FOR THE EU?
A step-by-step approach to developing compliant user instructions and avoid legal pitfalls.