Can You Publish Your Manual Solely Online (2022 Update)?
03/10/2021 Ferry Vermeulen & Jean-Pierre Barsoumian Law & Legislation
What are the advantages of an online manual?
You've probably asked yourself this question before. Indeed, the answers to this question may even be obvious to you. But actually, a thorough inventory of the specific advantages of an online manual will help you make a decision about what and what not to print.
Every manufacturer wants to worry less about legislation and spend more time on things that require immediate attention, like design, sales or operational challenges. But in this case, it's the end user we don't want to lose sight of.
End users wish to retrieve information at the time they need it. They do not think in terms of channels or journeys. They simply want to resolve a problem as fast as they can and assume that the information they need is available through the channel of their choosing. For example, when folding a stroller into the car, somebody will be more likely to consult an online manual on a smartphone, than going back inside the house and searching for the manual.
Other advantages of online or electronic manuals:
Smartphones support accessibility technologies, like text-to-speech applications, or a zoom-function, making instructions more accessible for people with disabilities.

Users can find information much easier by using a digital search function.

An electronic manual can also provide instructions through multimedia forms, such as video, which can be extremely effective.

The same online document can be referred to by several people at once. When it comes to paper manuals, there is usually just one physical copy available.

By making information more visual with the assistance of video and images, the number of returned products is reduced.

Electronic manuals are easier to modify and improve, allowing the user to always have access to the latest information.

In situations where safety is especially important, it can be logged that electronic documents were received or comprehended.

The instructions will always fit the packaging. This is important for products in growing markets, where the manuals keep expanding because of the growing number of translations they contain.

There would be a dramatic decline of printing and transportation costs for the manufacturer.

They make a concrete contribution to manufacturer sustainability goals.

An electronic manual embodies a company's ambitions. It shows that a company embraces the changing times, with user-friendliness and consideration for the environment as central themes.

Greater possibilities of marketing integration.

The retrieved information can be captured using analysis tools. This provides valuable input for the optimization of a product.

All of these advantages contribute to a better competitive position.
There are many tools available with amazing features to create digital instructions, like MadCap Flare, ViziApps, Paligo or Swipeguide.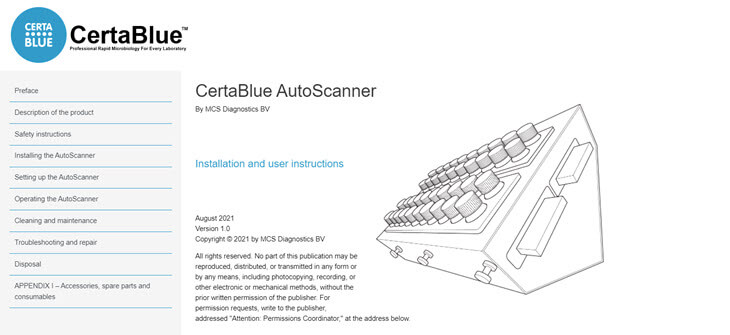 Example of an online manual for a hardware product
What are the possibilities for publishing your manual online?
It is clear that the advantages of electronical manuals are significant and groundbreaking, both for users and manufacturers. But it's still a demanding job to map out the actual possibilities and pitfalls, because they are product, market and company dependent. Simply put: every product has its own unique approach. For this reason, we've developed a system to assist our clients through the decision-making process on what content could be included online and what needs to be provided in a print-based format.
The framework we use for this type of assessment is called the P/OD system. It's a thorough, step-by-step approach that offers the right tools for a responsible and low-risk decision.
The P/OD system is made up of the following steps:
Determine "Big Savers"
Identification requirements, directives and regulations
Identification requirements guides
Identification requirements standards
Identification national requirements
Identification requirements test institutes
Determination of requirements on content
Vision and decision
Pitfalls checklist
The technical file
We regularly organise free webinars. During our webinars we will talk you through these steps and explain how to research these requirements yourself.
So, if you would like to know more about:
how European product safety legislation can easily be found and applied;
how to determine what information can legally be published online and what not;
creating user instructions that comply and avoid legal pitfalls;
saving money on printing costs;
The next one will be held on October 28th 2021
Sign up for our free webinar now.
The webinars are hosted by Ferry Vermeulen, owner and managing director of INSTRKTIV. Ferry has become a well know technical communicator over the past 15 years, hosting a popular podcast, YouTube channel and blog with over 23k visitors a month. With his companies, Ferry helped enterprises like VW, Electrolux, AEG, GE, Schneider Electric and Akzo Nobel create award winning manuals. Ferry is a member of the tekom European Advisory Board for Legislation & Standards.