Radio Equipment Directive (2014/53/EU) - Certification & CE Marking Guide
23/6/2019 Ferry Vermeulen Law & Legislation
1. What is the Radio Equipment Directive2014/53/EU?
The Radio Equipment Directive 2014/53/EU (RED) is a European Directive and part of the CE Marking Diectives. It applies to all devices emitting radio waves, including devices with Wi-Fi or Bluetooth.
The Radio Equipment Directive requires radio equipment to use the radio spectrum effectively and support its efficient use. Communication devices must conform to regulations in such a way that the equipment, approved in any one country, can be placed on the market of any other European Union member state without restrictions.
The RED requires that any equipment which functions as a transmitter:
Generate radio waves which are not harmful and/or interfering,
Limit unwanted radio wave emissions (for example, in adjacent channels) which may result in harmful interference
The RED requires receivers to:
Operate according to their functions while resisting interference from nearby or shared radio equipment,
Support efficient functioning of nearby or shared devices.
2. Directive Name
Radio Equipment Directive
3. Directive Number & Download Link to Legal Directive
Directive 2014/53/EU can be downloaded from the following link:
Radio Equipment Directive 2014/53/EU
4. Notified Body (aka, Independent Assessment) Required?
Before a manufacturer can start with the required procedure to assess their product, it is important that they determine whether the said product requires self-assessment or a Notified Body needs to be involved.
If Harmonised Standards for any equipment exist, manufacturers may declare the equipment's conformity to the RED themselves. In the event that there are no existing Harmonised Standards for an equipment, a Notified Body needs to be involved in the assessment of the device.
Of utmost importance is the following stipulation:
A Notified Body must be involved in the assessment of any equipment for which there are no Harmonised Standards available.
5. Products Covered
The Radio Equipment Directive covers any electric or electronic device which has a radio wave generating accessory, such as an antenna, and which emits and/or receives radio waves for radio communication and/or radio determination (gauging position, velocity or other characteristics of an object via radio waves).
6. Examples of Products Covered
The types of products covered under the Radio Equipment Directive include the following:
Cell phones
WiFi devices
Bluetooth equipment
GPS receivers
Televisions
Domestic radio sets
Radar equipment
Mobile radio transreceivers
7. Examples of Products NOT Covered
Following types of equipment will not be covered by the Radio Equipment Directive:
Equipment to be used for activities concerning public and/or state security
Radio equipment for amateurs, unless it is available on the market
Equipment which is covered by the Marine Directive
Equipment to be used for air traffic management or civil aviation
Evaluation kits which are made especially for research and development facilities
8. Enforcement & Penalties
Each EU member state is required to lay down rules on penalties for not complying with the Radio Equipment Directive. Below you can find the penalties for member states Germany and the UK as an example. For penalties relevant to other specific EU member states, please consult that state's local legislation on product safety.
Germany - violation of the "Produktsicherheitsgesetz

" (product safety legislation) can result in fines of €3,000 - €30,000 (

§ 19

) and imprisonment of up to 1 year (

§ 20)

.

In the UK, directive violations are are covered under Section 33 HSWA offenses

and can result in an unlimited fine and up to two years imprisonment.
9. How to Comply: Requirements & Process
Check Conformity
Manufacturers must determine whether their equipment falls under the Radio Equipment Directive. To be under its scope, the equipment must conform to the essential requirements of Low Voltage Directive as well as the Electromagnetic Compatibility Directive. Also, the equipment must support efficient use of the radio spectrum and resists interference by any other equipment.
If Harmonised Standards for the device exist, the manufacturer may determine the equipment's eligibility independently. Otherwise an authorized notified body must be involved.
Declaration of Conformity (contents)
The basic layout and content of a declaration of conformity are common for all directives, but may differ slightly for each directive.
The following are required by most directives:
Manufacturer's name and address
The equipment's description and/or serial number
Reference to relevant harmonized standards
Reference to the specifications, where necessary, by which conformity is declared
Details of the signatory
The two ending digits of the year of CE mark affixation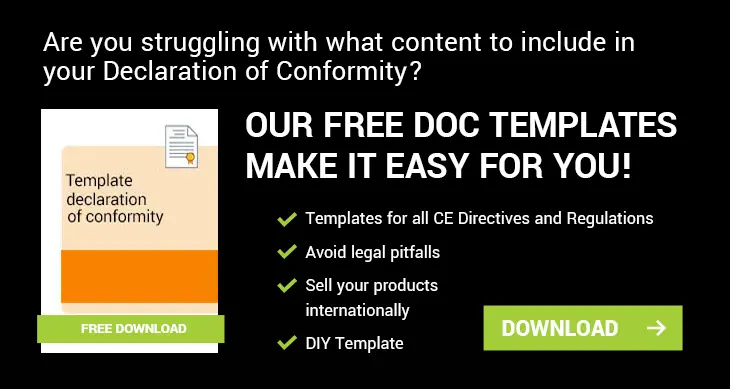 Technical Documentation
Directive 2014/53/EU requires the technical file to include the following:
Description of the radio equipment
Declaration of conformity
Restrictions, if any
List of the harmonised standards, if applicable
Details about notified bodies, if involved
Results of design calculations and examinations
Test reports
Affix CE Mark
When all the necessary steps have been taken, it is time to get the product affixed with the CE mark. The mark should be placed either on the equipment, the packaging or the instructions. The letters must be vertically equal in dimensions and must not be smaller 5 millimeters. If there are other Directives which cover the product as well, the CE marking must be affixed only when all the Directives have been met.
10. Free Template Download
For a free Declaration of Conformity template for the Radio Equipment directive, please refer to the downloads section of the page below:
Declaration of Conformity Templates
11. User instructions
Watch this video on how to create compliant user instructions:
12. Related Directives
The equipment which are covered by the RED may or may not be covered by the following related directives:
Medical Devices Directive
13. Useful Links (testing Labs, further information)
Links you may find useful in gaining more information regarding the Radio Equipment Directive.
Ferry Vermeulen is a technical communication and compliance expert. He also is a parttime trainer at the Dutch standardisation institute (NEN). Listen to the INSTRKTIV podcast on Spotify or read one of his latest blog articles.

Linkedin I Spotify I YouTube I Facebook I Twitter