Create Awesome User Instructions For Leading Companies
JP is a technical writer with a background in international law and marketing. He has always had a passion for writing and drawing and is completely in his element when he dives into innovative new projects for leading companies.
We asked him all about the projects he works on and what makes working with product leaders so interesting.
What made you decide to become a technical writer?
I always knew that I wanted to write. I did not have a specific ambition for technical writing, but when an opportunity arose to write for INSTRKTIV, it felt like it was the perfect match.
I'm curious by nature and writing about interesting, innovative products while working with engineers, people who are specialists in their field, really appealed to me. Whether it's a consumer product, an industrial product, or a piece of software, I will take on the challenge and get my teeth into it.
What is it like to create user instructions for leading companies?
First of all, I try to get an understanding of the people that I will be working with, the way they structure their processes, and how I will fit into that picture. It is important to show your partners that you understand their product and its purpose. You have to gain their trust quickly, but also feel comfortable asking questions when things are not clear.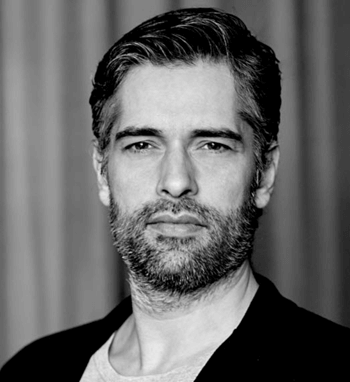 Jean-Pierre Barsoumian, technical writer at INSTRKTIV
Technical writing is about more than just writing user instructions. It's about voicing the creator's objective and offering a product the platform it deserves. After all, if a product is not used the way it is intended to, it essentially loses its value. I get a lot of satisfaction out of working with people who are experts at their job, who show commitment and who care about what they do and what they create. They understand the value of user instructions.
Can you give some examples of interesting projects that you have worked on?
One of the companies that we create manuals for is Bol.com, the largest e-commerce platform (the Dutch answer to Amazon) in the Netherlands.
They needed a product safety enrolment animation for the retailers that sell products on their platform. This is not a typical project for INSTRKTIV but they asked us because of our expertise in the field of compliance, concise writing, and instruction videos.
I took on the project with the aim of informing retailers about product certification and the necessity to comply with all relevant safety regulations, in order to continue their business on the Bol.com platform.
The challenge was to bring the message across in a positive and supporting way, without undermining the importance of compliance. It required a creative yet pragmatic type of communication, to encourage retailers to undertake the next steps. This was not a typical user instruction project, but it's the variety in this job that makes it so interesting.
Watch the video that we created here:
Another innovative company is EVBox, a Dutch company that supplies charging stations for electric vehicles. They offer charging solutions on a residential level but also for businesses, commercial parking, fuel retailers, and fleets. They're a fast-growing business that will deliver one million charging ports worldwide by 2025.
Their charging stations are powered by intelligent software that lets you track, manage, and optimize charging. Writing for software platforms comes with its own unique challenges. Front-end software development combines design elements such as UX/UI with text that needs to be very concise due to space restraints. It forces you to carefully evaluate every piece of content. It requires strong cooperation between the designer and the writer, so you really complement each other.
What do you enjoy most about working with product leaders?
User instructions shouldn't be an afterthought. They are an essential part of the design and production process and companies who understand that are great to work with. By putting time and effort into user instructions,companies show consumers that their products are well thought out and that they go the extra mile to eliminate any possible issues or safety concerns. You can also tell a lot about a company's sustainability efforts by the quality of its user instructions.
Vogel's is a business that creates innovative wall mounts and stands for TVs, speakers, and tablets. Their products are made from the highest quality materials and can carry at least three times their specified weight. Vogel's mounts are easy and fast to install thanks to pre-assembled elements, step-by-step instructions, and clear installation videos. What makes them stand out is that all their manuals are created in a fully online environment and can easily be downloaded by their customers. This validates the importance they place on the manuals we create.
Urban Arrow is one of my favourite clients and a great example of a sustainable product leader. They literally drive change with their unique electric cargo bikes for both families and businesses. They put a special focus on smart urban mobility to make cities cleaner, quieter, and more efficient so that they can remain a great place to live in. Naturally, innovative companies with such a sustainable goal are a pleasure to work with.
Is technical writing something you want to keep doing?
Yes, I really think that I want to keep doing this. I particularly enjoy the fact that I am creating something tangible, which wasn't really the case in my previous line of work. My efforts lead to an actual product, a piece of useful information that makes a particular task or process easier for someone else. I love that each working day is different, I love the challenges, working with smart and talented people, and constantly learning new things. The fact that there are still plenty of things out there that can amaze me, what's not to love about that?
Are you looking for a new challenge where you can use your writing talent and expand your knowledge of innovative products?INSTRKTIV is always looking for new writers. If you're interested in working with a company that cooperates with inspiring product leaders, don't hesitate to get in touch.
Ferry Vermeulen
Founder of INSTRKTIV and keen to help users become experts in the use of a product, and thus to contribute to a positive user experience. Eager to help organisations to reduce their product liability. Just loves cooking, travel, and music--especially electronic. You can also find him on:
Profile Page, Linkedin, Instagram and Twitter!
You may also be interested in
06 November 2023

The new machinery regulation and the implications for user manuals

This article gives an overview of all the changes in the new machinery regulation compared to the machinery directive in relation to the user instructions and goes into a bit more detail about digital manuals....

26 October 2023

Creating Compliant User Manuals

During this free webinar I am going to show you how to create a compliant user manual that helps you to avoid legal pitfalls for machinery, medical devices, electrical equipment, and other products by using our INSTRKTIV Framework....