RoHS Directive (2011/65/EU) - Compliance and CE Marking Guide
23/6/2019 Ferry Vermeulen Law & Legislation
1. What is the RoHS Directive?
The RoHS (Restictions on Hazardous Substances) Directive 2011/65/EU is a European Directive and falls within the scope of CE Marking. It lays down the rules on the restriction of the use of hazardous substances in electrical and electronic equipment (EEE) (such as mercury, lead, cadmium, and others).
Many electrical and electronic equipment (EEE) contain substances which pose risks to human health and the environment. The RoHS Directive came into being to restrict the use of hazardous substances in the manufacture of such equipment. These measures are promote a healthy environment for humans, as well as sound recovery and disposal of waste EEE.
Restrictions on the following six hazardous materials has been laid down by the RoHS directive:
Lead (Pb)
Mercury (Hg)
Cadmium (Cd)
Hexavalent chromium (Cr6+)
Polybrominated biphenyls (PBB)
Polybrominated diphenyl ether (PBDE)
In homogenous substances, the maximum tolerable concentration for all of these materials, except Cadmium, is 0.1% by weight. However, Cadmium cannot be more than 0.01% by weight.
2. Directive Name
Restriction of Hazardous Substances (RoHS) Directive
3. Directive Number & Download Link to Legal Directive
Directive 2011/65/EU can be downloaded from the following link:
Restriction of Hazardous Substances (RoHS) Directive 2011/65/EU
4. Notified Body (aka, Independent Assessment) Required?
Before a manufacturer can begin the required procedure to assess their product, it is important that they determine whether said product requires self-assessment or involvement of a Notified Body.
The Restriction of Hazardous Substances Directive 2011/65/EU does not require specific notified bodies to assess and certify electronic and electrical equipment. Manufacturers are responsible for self-assessing the equipment against harmful substances.
5. Products Covered
The RoHS directive covers all electrical and electronic equipment which, if not regulated by law, may be manufactured using high amounts of harmful substances. These substances, upon disposal, may affect human health and environment. The type of products covered by this directive are:
Large household appliances
Small household appliances
IT & Telecommunications equipment
Consumer equipment
Lighting equipment
Electronic and electrical tools
Toys, leisure, and sports equipment
Medical devices
Monitoring and control instruments
Automatic dispensers
Other EEE not covered by any of the categories above
6. Examples of Products Covered
Some examples of products which fall under the scope of this directive are as follows:
Refrigerators and freezers
Vacuum cleaners
Fryers
Clocks
Computers
Telephones
Television sets
Musical instruments
Sewing machines
Toy cars and trains
Pulmonary ventilators
Radiotherapy equipment
Smoke detectors
Video games
7. Examples of Products NOT Covered
The following are not covered by RoHS directive:
Equipment to be used for national security purposes
Equipment in which electricity is not the main source of power
Equipment intended to be sent into space
Products which function only as a sub-component of an equipment which does not fall within the scope of RoHS directive
Large-scale stationary industrial tools
Large-scale fixed installations
Vehicles or means of transportation
Non-road mobile machinery, such as bulldozers or mobile cranes
Active implantable medical devices
Photovoltaic panels installed to produce energy from solar light
Equipment designed to be used in the field of research and development
8. Enforcement & Penalties
Each EU member state is required to lay down rules on penalties for not complying with the RoHS Directive. Below you can find the penalties for member states Germany and the UK as an example. For penalties relevant to other specific EU member states, please consult that state's local legislation on product safety.


Germany - violation of the "Produktsicherheitsgesetz

" (product safety legislation) can result in fines of €3,000 - €30,000 (

§ 19

) and imprisonment of up to 1 year (

§ 20)

.

In the UK, directive violations are are covered under Section 33 HSWA offenses

and can result in an unlimited fine and up to two years imprisonment.
9. How to Comply: Requirements & Process
Check Conformity
Manufacturers need to assess their products for concentrations of harmful substances. Any electrical or electronic equipment, before being placed on the EU market, must be assessed by the manufacturer for humans and environmental safety. No equipment should contain Lead (Pb), Mercury (Hg), Hexavalent chromium (Cr6+), Polybrominated biphenyls (PBB), or Polybrominated diphenyl ether (PBDE) in concentrations greater than 0.1% by weight and/or Cadmium (Cd) 0.01% by weight.
Perform Laboratory Tests
The RoHS directive does not require independent notified bodies to assess the equipment. Manufacturers, however, are required to guarantee their product's safety. Testing methods that may be performed on these equipment include: X-Ray Fluorescence (XRF), Fourier Transform Infra-red Spectroscopy (FTIR), and Scanning Electron Microscope (SEM) testing.
Declaration of Conformity (contents)
The basic layout and content of a declaration of conformity are common for all directives, but may differ slightly for each directive.
The following are required by most directives:
Manufacturer's name and address
The equipment's description and/or serial number
Reference to relevant harmonized standards
Reference to the specifications, where necessary, by which conformity is declared
Details of the signatory
The two ending digits of the year of CE mark affixation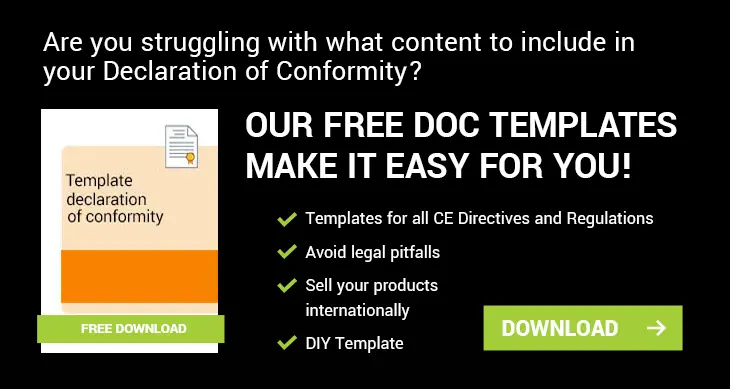 Technical Documentation
Directive 2011/65/EU requires technical documentation to be established by the manufacturer. The technical document is instrumental in the assessment of the conformity of said appliance with the Directive's requirements.
The technical document must contain the following elements:
Description of the electrical or electronic equipment
Product design and description showing the relationship of conformity documentation with parts, their materials and subassemblies
Risk assessment of the parts, materials and subassemblies
Conformity information
Harmonised standards and conformity procedures that have been applied
Manufacturing documentation
Affix CE Mark
When all the necessary steps have been taken, it is time to get the product affixed with the CE mark. The mark should be placed either on the equipment, the packaging or the instructions. The letters must be vertically equal in dimensions and must not be smaller 5 millimeters. If there are other Directives which cover the product as well, the CE marking must be affixed only when all the Directives have been met.
10. Free Template Download
For a free Declaration of Conformity template for the RoHS directive, please refer to the downloads section of the page below:
Declaration of Conformity Templates
11. Related Directives
Some of the directives which are related to EMC directive in their functions are as follows:
Waste Electrical and Electronic Equipment (2012/19/EU)
Medical Device Directive (93/42/EEC)
In Vitro Diagnostic Medical Device Directive (98/79/EC)
12. Useful Links (testing Labs, further information)
Links you might find useful in gaining more information regarding the Restriction of Hazardous Substances Directive.
Ferry Vermeulen is a technical communication and compliance expert. He also is a parttime trainer at the Dutch standardisation institute (NEN). Listen to the INSTRKTIV podcast on Spotify or read one of his latest blog articles.

Linkedin I Spotify I YouTube I Facebook I Twitter