Machinery Directive (2006/42/EC) - Certification Guide
23/4/2023 Ferry Vermeulen Law & Legislation
1. What is the Machinery Directive 2006/42/EC?
The Machinery Directive 2006/42/EU is a European Directive and falls within the scope of CE marking. It sets requirements for machines, safety components, lifting accessories (such as chains and ropes) and other related products.
Machinery is any assembly of components, of which at least one moves, joined together to perform a specific function. Such an assembly does not require human or animal effort, but is instead powered by energy.
The machinery directive applies not only to machinery but also to safety components and lifting accessories such as chains and ropes.
The purpose of the machinery directive is:
To encourage free movement of machinery within EU member states
To promote a high level of safety for workers as well as citizens
2. Directive Name
Machinery Directive.
3. Directive Number & Download Link to Legal Directive
Directive 2006/42/EC can be downloaded from the following link:
Machinery Directive 2006/42/EC
4. Notified Body (aka, Independent Assessment) Required?
Before a manufacturer can begin the required procedure to assess their product for conformity, it is important that they determine whether said product allows self-assessment or if a Notified Body needs to be involved.
A notified body is an organisation which is responsible for carrying out required conformity tests to assess products before they are released to the EU market. These bodies are designated by individual European Union member states.
Most of the equipment which fall under this directive can be self-assessed by manufacturers. So long as the equipment complies with the directive, manufacturers need not approach a notified body
There are 23 exceptions in the category of machinery, listed under Annex IV of the directive, which are subject to special assessment procedures. The equipment mentioned in Annex IV of the machinery directive must either be manufactured in staunch accordance with the standards provided or be subjected to assessment by notified bodies.
5. Products Covered
The machinery directive applies to any assembly of components, at least one of which moves, joined together to carry out a specific operation. Also, all the lifting equipment, including chains, ropes and slings as well as safety components are covered by the machinery directive. According to this definition, the scope of this directive is large and consists of a huge number of machines.
6. Examples of Products Covered
The types of products covered by the Machinery Directive include the following:
Commercial dishwashing machines
Commercial washing machines
Commercial whirlpool baths and spas
Milking equipment
Commercial floor cleaning and treatment machines
Commercial microwave ovens with moving parts
7. Examples of Products NOT Covered
Some types of equipment which are not covered by this directive are:
Safety components which are used as spare parts and are provided by manufacturers to replace original identical components
Equipment to be used in fairgrounds and amusement parks
Weapons
Machinery designed for nuclear purposes
Means of transport covered by other directives
Seagoing vessels and mobile offshore units, including equipment on board such vessels and units
Machinery designed for police or military
Machinery designed for research in temporary laboratories
Mine winding gear
Machinery designed to move artists during their performances
Low voltage equipment which are covered by Low Voltage Directive
High voltage equipment such as transformers, switch gears and control gears
8. Enforcement & Penalties
Each EU member state is required to lay down rules on penalties for not complying with the Machinery Directive. Below you can find the penalties for member states Germany and the UK as an example. For penalties relevant to other specific EU member states, please consult that state's local legislation on product safety.


Germany - violation of the "Produktsicherheitsgesetz

" (product safety legislation) can result in fines of €3,000 - €30,000 (

§ 19

) and imprisonment of up to 1 year (

§ 20)

.

In the UK, directive violations are are covered under Section 33 HSWA offenses

and can result in an unlimited fine and up to two years imprisonment.
9. How to Comply: Requirements & Process
Check Conformity
Most of the equipment under this directive can be assessed by manufacturers for conformity.
Only certain equipment under Annex IV of the directive requires notified bodies to be involved for conformity assessment procedures.
Declaration of Conformity (contents)
The basic layout and content of a declaration of conformity are common for all directives, but may differ slightly for each directive
The following are required by most directives:
Manufacturer's name and address
The equipment's description and/or serial number
Reference to relevant harmonized standards
Reference to the specifications, where necessary, by which conformity is declared
Details of the signatory
The two ending digits of the year of CE mark affixation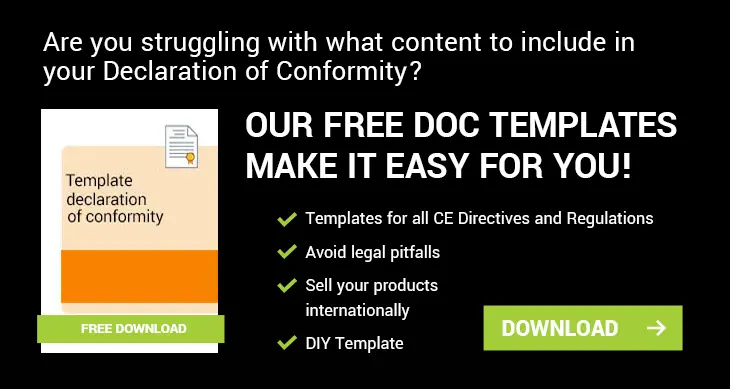 Technical Documentation
Directive 2006/42/EC requires technical documentation to be established by the manufacturer. The technical document is instrumental in the assessment of the conformity of said appliance with the Directive's requirements.
The technical document must contain the following elements:
Description of the equipment
Abstract design, manufacturing drawings, diagrams of components, sub-assemblies, circuits, etc.,
Descriptions and any explanations which are necessary to understand the drawings and diagrams, as well as the operation of the equipment
List of the harmonised standards
Results of design calculations and examinations
Test reports
Affix CE Mark
When all the necessary steps have been taken, it is time to get the product affixed with the CE mark. The mark should be placed either on the equipment, the packaging or the instructions. The letters must be vertically equal in dimensions and must not be smaller 5 millimeters. If there are other Directives which cover the product as well, the CE marking must be affixed only when all the Directives have been met.
10. Template Download
For a free Declaration of Conformity template for the Machinery directive, please refer to the downloads section of the page below:
Declaration of Conformity Templates.
We also offer (paid) templates for creating compliant user manuals for machinery.
11. Related Directives
The directives that fall under the Mechanical Engineering sector, other than the Machinery Directive, include:
Lifts directive
Personal Protective Equipment (PPE) directive
12. Useful Links (testing Labs, further information)
Links you might find useful in gaining more information regarding the Pressure Equipment Directive.
Ferry Vermeulen is a technical communication and compliance expert. He also is a parttime trainer at the Dutch standardisation institute (NEN). Listen to the INSTRKTIV podcast on Spotify or read one of his latest blog articles.

Linkedin I Spotify I YouTube I Facebook I Twitter