The CE Mark Logo and How to Use It
25/4/2023 Ferry Vermeulen Law & Legislation
What is the CE Mark logo?
The CE mark logo on a product signifies that the manufacturer declares that the product has been assessed and meets the requirements of the relevant European product safety legislation.
Affixing the CE logo
Affixing the CE mark (aka logo) is an important step for many manufacturers.
Why? Because a CE marked product (one bearing the CE mark depicted below) signifies that:
The manufacturer has declared the product compliant with EEE regulations.
The product can be sold throughout the EEA region without restriction.
It's also an important step for importers & exporters, as it allows manufactured products outside the EEA to be sold within this trade region.
Note: Some products are not required to have a CE mark. Only the products covered by the New Approach Directives require CE marking, and the affixing of the CE mark on other products is expressly forbidden. Additionally, neither product nor product safety deemed origin are verified by the presence of a CE mark.
CE Logo Guidelines
The CE mark consists of the letters 'CE' in the exact form displayed below. Any change in size to the CE mark must retain these proportions:
NOTE: Please observe the CE logo is formed by imperfect semi-circles. The arms on the main circle are one square longer at each end than 'perfect' and the central square bracket is shorter one.
Unless otherwise specified by the directive pertaining to your product, the CE mark must be at least 5 mm high.
As a default the CE marking is to be affixed directly to the product or its data plate. When the nature of the product makes this impossible, it shouldering be applied to any product packaging and documents (user manuals) required by its directive.
The CE mark must be applied in a way that can not be easily removed, as well as visibly and legibly.
CE Logo Free Download
Download your CE mark here:
CE Marking Directives
Below is a list of major directives pertaining to CE marking, as well as the specific requirements for several of the more complex directives.
Noise Emission - 2000/14 / EC
Cableway Installation - 2000/9 / EC
Ecodesign - 2009/125 / EC
Gas Appliances - 2009/142 / EC
Toys - 2009/48 / EC
Pyrotechnic Articles - 2013/29 / EU
Hot Water Boilers - 92/42 / ECC
Explosives - 2014/28 / EU
Pressure Vessels - 2014/29 / EU
Weighing Instruments - 2014/31 / EU
Measuring Instruments - 2014/32 / EU
Lifts - 2014/33 / EU
PPE - 89/686 / EEC
Implanted Medical Devices - 90/385 / EEC
Medical Devices - 93/42 / EEC
Recreational Craft - 2013/53 / EU
In Vitro - 98/79 / EC
Construction - (EU) No. 305/2011
Declaration of Conformity
Ready to draw up a declaration of conformity? This guide will answer your questions, as well as providence templates for each of the 25 product groups:
Declaration of Conformity Guide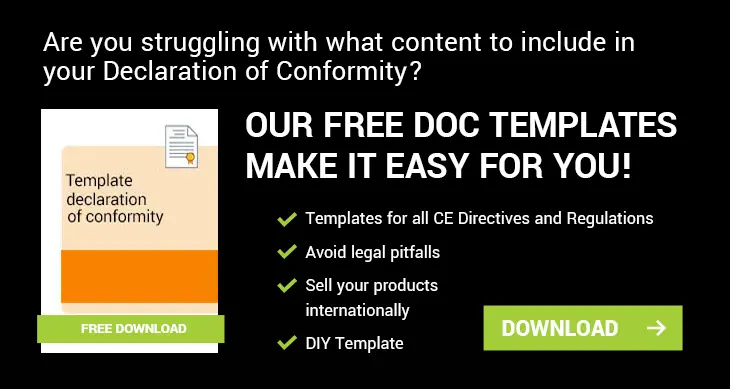 Resources
For more information, please refer to the European Union website
Ferry Vermeulen is a technical communication and compliance expert. He also is a parttime trainer at the Dutch standardisation institute (NEN). Listen to the INSTRKTIV podcast on Spotify or read one of his latest blog articles.

Linkedin I Spotify I YouTube I Facebook I Twitter