I was working at WeWork Coworking in Amsterdam yesterday when the guy sitting next to me introduced himself. He was an American lawyer working for an NGO.
I told him what I was doing and briefly mentioned CE marking. He asked me if I was a lawyer too. I had to disappoint him.
But, he was more or less familiar with the topic of CE marking! So this was one of the few times that someone didn't yawn or look in the other direction :)
He started talking about the Chinese Export Marking, which is almost identical to the CE mark. He finds it a smart move of the Chinese, which should enable them to gain a high level of trust for products that are being sold on the European market.
I disagreed.
The Chinese Export Mark is an unofficial mark. It is made up. It is fake. It is used by a handful of manufacturers to gain access to the European market or to mislead consumers and make use of the marketing value of the official CE mark.
The European CE mark and the China Export mark
And this is illegal as hell! When you are selling a product on the European market that falls within the scope of CE Directives, it is mandatory to mark your product with the official CE marking. By doing so, the manufacturer or the importer declares that the product complies with the European product safety legislation.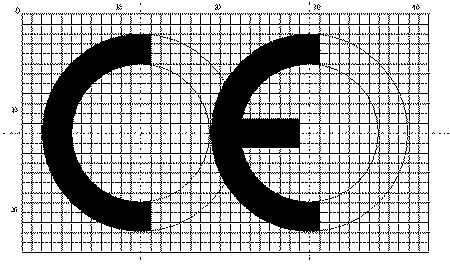 The size of the CE mark is exactly determined.
The European Directives also mention the following:
"Member States shall build upon existing mechanisms to ensure correct application of the regime governing the CE marking and shall take appropriate action in the event of improper use of that marking"
The market surveillance authorities of the Member States check imported products and are able to indicate when non-CE-products are marked with a CE logo or a look-a-like. They might also request the Declaration of Conformity, which is the first indicator to check if a product really complies with the CE requirements.
Regulation (EU) 2019/1020 requires non-European manufacturers to have an economic operator (such as an importer or authorised representative) located withing the EU.
For more information about what CE marking is and what the CE mark means, read this post.
Ferry Vermeulen
Founder of INSTRKTIV and keen to help users become experts in the use of a product, and thus to contribute to a positive user experience. Eager to help organisations to reduce their product liability. Just loves cooking, travel, and music--especially electronic. You can also find him on:
Profile Page, Linkedin, Instagram and Twitter!
You may also be interested in
26 April 2022

How These Companies Never Had To Create a Manual Again

Jean-Pierre is a technical writer at INSTRKTIV and enjoys working for companies that outsource their manual creation. He spends fixed days each week providing capacity to companies that need help with their documentation. We asked him all about how he helps product owners and engineers balance their workload, create impressive manuals and other documentation for innovative products and boosting team efficiency....

26 April 2022

Create Awesome User Instructions For Leading Companies

JP is a technical writer with a background in international law and marketing. We asked him all about the projects he works on and what makes working with product leaders so interesting....